Chiwetel Ejiofor Leads A Star-Studded Cast In New 'Twelve Years A Slave' Pics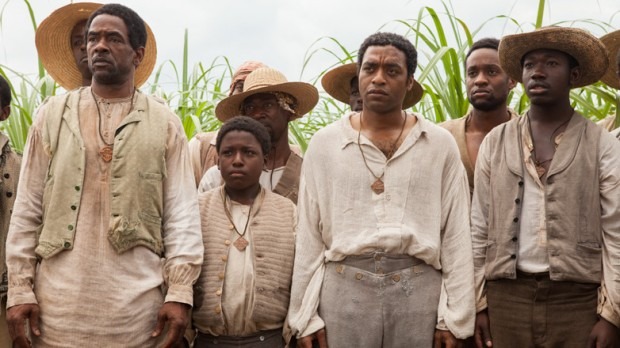 The name Solomon Northup may not ring a bell for most people, but Steve McQueen and his star-studded cast could help change that this winter with Twelve Years a Slave.
Chiwetel Ejiofor stars as Northup, a free man who was tricked and sold into slavery as an adult. He spent a dozen years working on plantations before eventually finding his way to freedom once more. Benedict Cumberbatch, Michael Fassbender, Sarah Paulson, Quvenzhané Wallis, Dwight Henry, Paul Giamatti, Michael K. Williams, Alfre Woodard, and newcomer Lupita Nyong'o are also among the cast. See the first official stills from the movie after the jump.
McQueen explained his interest in Northup's tale to USA Today. "It was the Anne Frank story of America of that time," he said. "It's the situation and the detail of Solomon's recollection of those events that ingrained itself in my brain, and the humanity of everyone involved."
While Northup's tale is undoubtedly a dramatic one, it was important to McQueen and Ejiofor that they keep their portrayal grounded. "His story is not something that's been mythologized or idealized. It's raw and it's right there and it's a real connection," said the actor. McQueen added, "You can look at this film and be of any ethnic grouping and identify with Solomon. He has been taken away into circumstances that are horrific and not pleasant. All he wants is to get back to his family."
Fox Searchlight, which picked up Twelve Years a Slave in March, demonstrated its confidence in the film by giving it a plum year-end slot: December 27. It'll be up against several other awards season hopefuls like Grace of Monaco and Ben Stiller's The Secret Life of Walter Mitty (on the 25th).