'The Spectacular Now' Trailer: Miles Teller And Shailene Woodley Strike Up A Critically Acclaimed Romance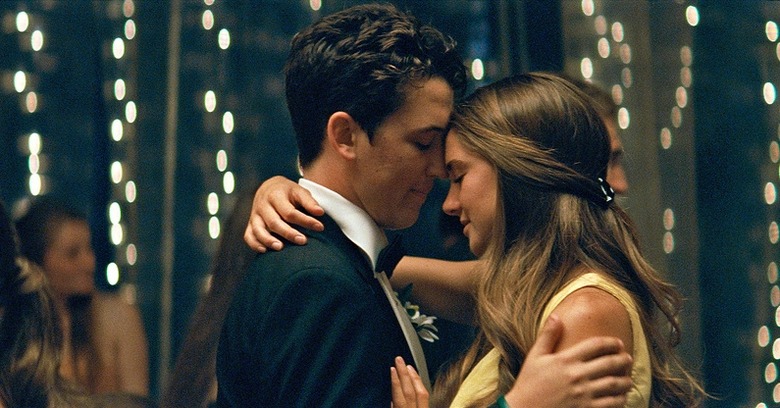 In James Ponsoldt's last film, Smashed, binge-drinking helped tear two married people apart. In his new one, The Spectacular Now, it brings two very different teens together, albeit in an unexpected way.
Miles Teller stars as popular, hard-partying Sutter, who drinks himself to oblivion one night after getting dumped by his girlfriend. He wakes up on the lawn of a classmate, sweet sci-fi geek Aimee (Shailene Woodley). Despite their differences, the two find themselves inexorably drawn together.
That setup may not sound like much of anything special, but the rave reviews out of Sundance indicate that Ponsoldt makes the most of it. Check out the first trailer and poster after the jump.
Peter wrote that The Spectacular Now was "everything I hope a Sundance movie to be" when he caught it at the festival earlier this year, and his gushing reaction has been echoed by tons of other critics. In particular, the movie's drawn high praise for its tender yet honest approach, and for its uniformly excellent cast.
Teller's performance in particular has been described as a "breakout" turn, but the supporting stars are no slouches either. In addition to Teller and Woodley, the lineup includes Mary Elizabeth Winstead, Bob Odenkirk, Kyle Chandler, and Brie Larson.
The Spectacular Now opens August 2.
Sutter Keely (Miles Teller) lives in the now. It's a good place for him. A high school senior, charming and self-possessed, he's the life of the party, loves his job at a men's clothing store, and has no plans for the future. A budding alcoholic, he's never far from his supersized, whisky-fortified thirst-master cup. But after being dumped by his girlfriend, Sutter gets drunk and wakes up on a lawn with Aimee Finicky (Shailene Woodley) hovering over him. She's different: the "nice girl" who reads science fiction and doesn't have a boyfriend. While Amy has dreams of a future, Sutter lives in the impressive delusion of a spectacular now, yet somehow, they're drawn together.