Universal Is Dumb Enough To Make 'Dumb And Dumber To'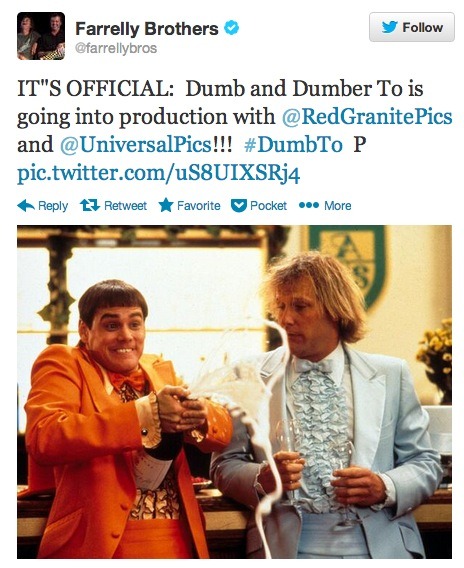 Just last week it was revealed that Warner Bros had dropped the Peter and Bobby Farrelly-directed sequel Dumb and Dumber To. Rumor had it that the Burbank-based studio saw a very limited upside in a follow-up and was unwilling to bet a low $30 million on the film. At the time it was reported that the Farrelly Brothers planned to shop the film to other studios, and it looks like they have gotten a bite. The directing duo announced on twitter that Red Granite Pictures (The Wolf of Wall Street) and Universal Pictures will team to greenlight the sequel.
Seems like Hollywood is also unsure if Jim Carrey and still bring people into the theater these days. A $30 million sequel to Dumb and Dumber seems more of a sure bet to me, especially when you consider the possible merchandising potential. Look at how well Hangover did with t-shirts and merch. Dumb and Dumber has become a comedy classic on home video and television, and I don't think the studio has any idea just how many people will pay to see a follow-up.
Lets just hope someone comes to their senses and changes the title of the movie. For me its too dumb to be funny, and just comes off as confusing at first glance.