First Look: Kristen Bell And Jason Dohring In The 'Veronica Mars' Movie Sequel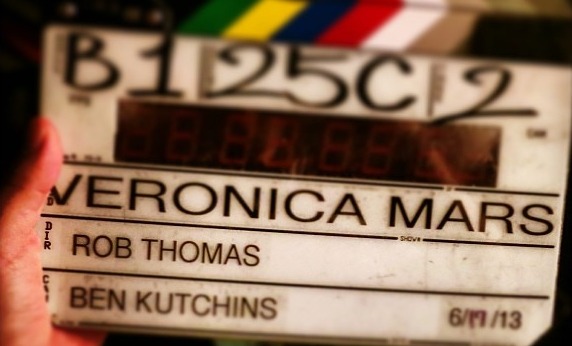 2013 is turning out to be a pretty good year for people who were glued to their TV sets in the mid-aughts. First Arrested Development made its highly anticipated return on Netflix with a 15-episode fourth season, and now the long-promised Veronica Mars movie sequel has finally started shooting.
To mark the first day of filming, the official Veronica Mars Twitter account has uploaded a couple teaser-y images from the production. Elsewhere on the web, the first batch of set photos hint at a reunion between Veronica (Kristen Bell) and her onetime love Logan (Jason Dohring). Check 'em out after the jump.
Well, look at that. We're back. http://t.co/WPvLJhkuEf #VeronicaMarsMovie

— Veronica Mars (@veronicamars) June 18, 2013
Neptune's hottest club is now open for business. http://t.co/XeKmh4TuTt #VeronicaMarsMovie

— Veronica Mars (@veronicamars) June 18, 2013
As a longtime fan, I'm just thrilled to see the team is back at work — but these pics don't really give away much of anything. For a more revealing look, we can turn to Buzz Sugar's snaps from the set.
The pictures feature Veronica hovering over Logan's fancy-looking convertible, outside what appears to be the 09ER club shown in the Instagram pic. It's tough to tell what exactly going on here, but the pair may have quite a bit of catching up to do. Thomas previously confirmed that Veronica and Logan haven't seen each other for nearly a decade at the start of the movie.
The movie sequel picks up with Veronica on the occasion of her 10-year high school reunion. She gets pulled into her first P.I. case in years when Logan is implicated in the death of his pop-star girlfriend. Poor guy can't catch a break. As those who've seen the series will recall, Logan's teen years saw him dealing with (spoiler alert!) his girlfriend's murder, his mom's suicide, his dad's incarceration for his girlfriend's murder, and framing for a different, unrelated murder.
Aside from Bell and Echolls, Neptuners expected to return include Tina Majorino (Mac), Daran Norris (Cliff), Francis Capra (Weevil), Chris Lowell (Piz), Percy Daggs III (Wallace), Ryan Hansen (Dick), Krysten Ritter (Gia), Amanda Noret (Madison), and Enrico Colantoni (Keith). Warner Bros. will distribute the picture. No release date has been set at this time.