'Jurassic Park 4' Now Aiming For 2015 Release, To Be Shot In 3D?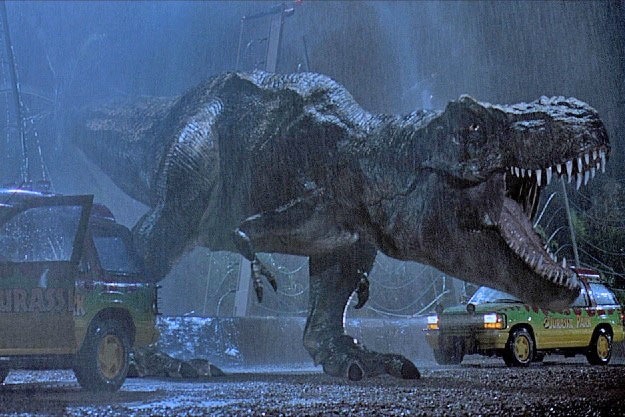 Jurassic Park 4 was gearing up to begin filming when the plug was abruptly pulled a few weeks ago. Rumor had it that Steven Spielberg was not happy with the screenplay. Whatever the real story may be, Universal Pictures and producer Frank Marshall decided to put the project on hold while they focused their efforts on development without having the pressure of chasing an announced release date.
ComingSoon spotted a huge banner at Licensing Expo 2013 in Las Vegas today which features the Jurassic Park logo and the year "2015". The film was originally set for a June 13th, 2014 release date before production was halted, so this isn't an old date. Again, this could just be hopeful thinking on the part of Universal at this point as nothing has been officially announced.
Another thing worth noting is that while everyone had assumed that the film would, at very least, be released in 3D, the Licensing Expo book says that the film will actually be shot in 3D.
Safety Not Guaranteed director Colin Trevorrow is still set to helm Jurassic Park 4, and last we heard the screenplay was being worked on by Rick Jaffa and Amanda Silver.
Trevorrow last tweeted last week that he was back in the office working on the Jurassic sequel:
Back at work today, toys from 20 years ago waiting in my office. Thanks @ledoctor for keeping them in the box. http://t.co/Fu7jX7EPeb

— Colin Trevorrow (@colintrevorrow) June 12, 2013
And earlier this month Colin promised to have "more news soon":
@JP4Committee Not at all. More news soon.

— Colin Trevorrow (@colintrevorrow) June 2, 2013