TV Bits: 'Girl Meets World', 'Hemlock Grove', 'Masters Of Sex', Darren Aronofsky, Dan Harmon, Channing Tatum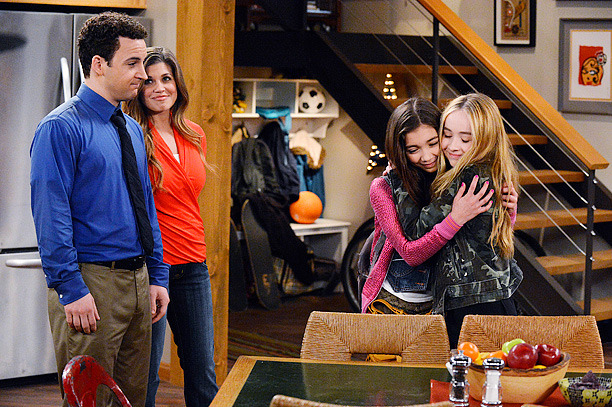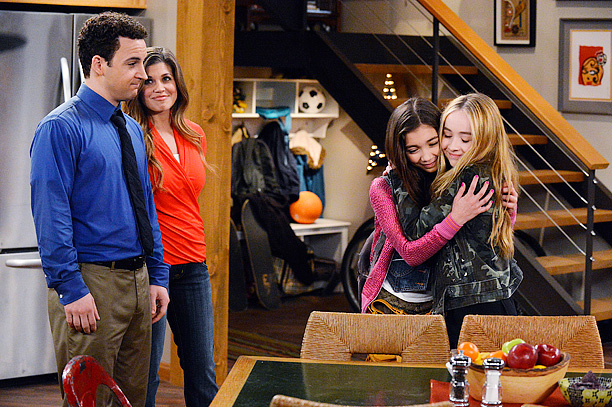 I suppose 32-year-old Ben Savage is technically old enough to have a 13-year-old daughter, but it still feels weird to see him playing the proud dad instead of the confused kid on Girl Meets World, doesn't it? Also after the jump:
Darren Aronofsky and HBO ditch Michael Chabon's Hobgoblin
FX's The Strain adds John Hurt; Liv Tyler is one of HBO's Leftovers
Guillermo del Toro has guest directed something on The Simpsons
Juan Antonio Bayona will direct Sam Mendes' Penny Dreadful
Channing Tatum will produce a show by Pete from Happy Endings
Almost all of CBS's shows will premiere the week of September 22
Netflix will return to Eli Roth's Hemlock Grove for a second season
Charlie Sheen gets Selma Blair fired from Anger Management
Dan Harmon is sorry he said those mean things about Community Season 4
Girl Meets World is a go; see proud parents Cory and Topanga in new pics
Michael Sheen and Lizzy Caplan are Masters of Sex in a new trailer
But there's hope for it yet, as FX has entered negotiations to pick it up. The show follows magicians and con men who use their special skills to take down Nazis during World War II. [TheWrap]
Meanwhile, another HBO pilot is picking up steam. Liv Tyler has signed on to co-star opposite Justin Theroux in Damon Lindelof's The Leftovers, based on the novel of the same title by Tom Perrotta. The drama picks up with the people left behind following the Rapture. Among that population is Tyler's Meg, who's recruited by a cult. [Deadline]
John Hurt is the newest addition to the cast of FX's The Strain, which also includes Corey Stoll and Mia Maestro. Hurt will play Professor Abraham Setrakian, a Holocaust survivor and pawn shop owner who may hold the key to the mystery behind the sudden outbreak of a vampiric disease. [TV Line]
As The Strain continues to take shape, Del Toro's been spending a bit of time with a totally different kind of show. 20th Century Fox TV's Comic-Con schedule reveals that Del Toro has served time as a guest director on The Simpsons. Footage from his episode will be shown during the show's panel next month. [Bleeding Cool]
Several big-screen talents are converging at Showtime for the drama Penny Dreadful. Juan Antonio Bayona (The Impossible) has been set to direct the first two episodes of the show, which was created by Skyfall scribe John Logan and is being produced by Sam Mendes. The "psychosexual horror series" brings together iconic literary figures like Dr. Frankenstein and Dorian Gray in Victorian London. [TheWrap]
Channing Tatum is adding "TV producer" to his resume. Warner Bros. TV is developing an untitled comedy series executive produced by Tatum and Reid Carolin (Magic Mike), which will be shopped to networks later this year if all goes well.
Also producing is Nick Zano (recently of Happy Endings and 2 Broke Girls, among other things). The actor-turned-writer drew on his own experiences growing up in a multi-generational New Jersey household full of women to pen the script. The half-hour multi-cam will follow a 30-year-old man who wants to strike out on his own, but needs to stick around and help raise his sister. [TheWrap]
CBS viewers will want to clear their late September schedules. The Emmy Awards on Sunday, September 22 kicks off a big week that includes the premieres of nearly all of the network's shows. Get the full details here.
Hemlock Grove didn't have many fans among critics, but evidently it had enough among Netflix's decision makers. The streaming service has renewed the Eli Roth-produced horror show for a second season, which will consist of ten episodes to debut next year. [EW]
New show, same old bullshit. Charlie Sheen has gotten Selma Blair fired from his FX series Anger Management after she complained about his unprofessional work habits. Her role as Sheen's therapist will not be recast, but producers are now looking to cast a new female character. [Vulture]
To the surprise of absolutely no one, Dan Harmon was none too thrilled with the direction Community took after his exit last year. In his Harmontown podcast, he blasted the Harmon-less fourth season as "an impression, and an unflattering one," and likened the experience of watching it to "flipping through Instagrams and watching your girlfriend just blow a million [other guys]" and "being held down and watching your family get raped on a beach."
Naturally, those comments came under fire, and Harmon quickly took to Twitter to express his regrets.
He also posted a lengthier apology on his blog. In it, he promises to "try thinking about you before saying things into microphones." Good luck with that, dude. [via Vulture]
The adventures of Cory and Topanga will continue next year. Or the adventures of their daughter Riley will, anyway. The Disney Channel has officially picked up the Boy Meets World spinoff Girl Meets World for a 2014 premiere.
Rowan Blanchard leads the cast as the couple's tween daughter Riley, while Sabrina Carpenter plays her BFF Maya. Ben Savage and Danielle Fishel reprise their roles Cory and Topanga. Check out two new photos below.
[EW]
Michael Sheen and Lizzy Caplan are bringing some heat to Showtime this fall. Masters of Sex stars the pair as researchers William Masters and Virginia Johnson, whose studies in the mid-20th century reshaped the way we think about human sexuality. Watch a new teaser below.
Masters of Sex premieres September 29. [Showtime]