'Transcendence' Scribe In Line To Script 'Prometheus 2'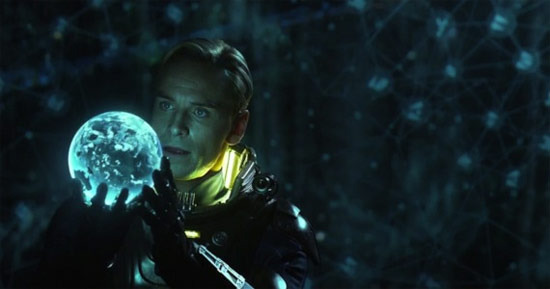 Briefly: Do you want to see Prometheus 2? Personally, that's a difficult question to answer. The ending of last year's Ridley Scott film (warning: spoilers ahead) didn't leave me hungry for more, but there's still a framework there in which a good story could be told. Noomi Rapace and Michael Fassbender would likely feature in a film that explores how Rapace's character and the remains of Fassbender's android go off in search of further truth about the alien Engineers. And there's that xenomorph appearance at the end of Prometheus (pictured below) which must factor in somehow.
Now we're a step closer to seeing what happens next. The Wrap reports that Jack Paglen, who wrote Wally Pfister's directorial debut Transcendence, is Fox and Scott's choice to script. The site says the producer/director has signed off on Paglen's story for the sequel, and that a deal is imminent. Since we know little about the Transcendence script, there's little way of knowing whether or not Paglen is a good choice for this sequel.
Jon Spaihts wrote the script that became Prometheus, with Damon Lindelof doing a rewrite under the scrutiny of Scott. Presumably Scott would direct the sequel, but as always with him, it's difficult to say for certain until he announces a deal.