'Frozen' Images Reveal A Sisterly Bond, A Princely Suitor, And A Talking Snowman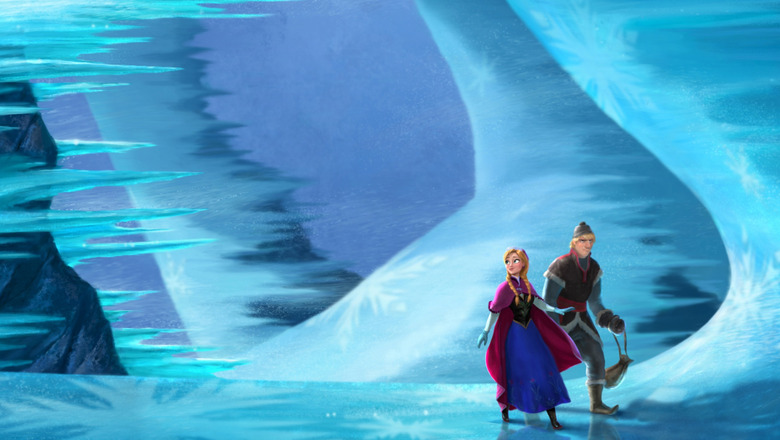 We're fast approaching the part of summer when it becomes so hot and humid outside that ducking into a Smurfs sequel just for the air-conditioning seems like a reasonable life decision. But for the characters of Disney's Frozen, that's not ever a problem.
The studio has released several new pics from the icy animated feature, set in a land where it's always cold. Queen Elsa (Idina Menzel), whose accidental curse sparked the permanent chill, has fled the kingdom, leaving her younger sister Anna (Kristen Bell) to track her down and set things right.
Also caught up in the adventure are mountain man Kristoff (Jonathan Groff) and his trusty reindeer Sven, charming prince Hans (Santino Fontana), and chatty snowman Olaf (Josh Gad). See images of all of them and get new plot details after the jump.
USA Today debuted the stills, along with new information from Bell and directors Chris Buck and Jennifer Lee. While the project was originally conceived as an adaptation of Hans Christian Andersen's The Snow Queen, Frozen has very much become its own thing.
The Disney picture centers on, Lee says, "two sisters torn apart by a big family secret." In a break from the traditional hero-villain fairy tale template, Anna's intent is to help Elsa, not end her. "[S]he's forced into a position where her sister needs her, and she has to step up to the plate," Bell says.
Indeed, the first image below shows Anna pleading with Elsa to return. "Anna is opening the ice door as she enters Elsa's world. And it's the first moment they have seen each other," Lee explains. Bell adds, "Anna tries to convince Elsa that her place is back at home. That it doesn't matter how you stumble, your home is with me."
While Elsa is the older and more powerful of the two, Bell describes Anna as "the sibling who doesn't normally get that much attention and is used to kind of just spazzing out on her own." Unlike her sister, she's a fairly ordinary person. "She's not a good fighter, she doesn't have good posture, she's not very elegant, and she's constantly putting her foot in her mouth," she says. "But she's a good person and she's utterly determined."
Nevertheless, Anna seems to have her share of admirers including Kristoff, for whom she develops an "unlikely fondness," and Prince Hans, who's "the more Disney-type of guy," as Bell puts it. Both men can be found in the gallery below. Also pictured are Sven and Olaf, who provide the comic relief — though only Olaf is able to talk.
In a nod to Andersen's Danish roots, Buck and Lee gave the movie a Scandinavian feel. The animators even visited Norway in the winter to find the right look for Frozen's snowy scenery. "The light is amazing, the way it refracts and dances off the snow and ice," Buck recalls. "We're still working on the film, but what we have seen is stunning."
Frozen arrives November 27.
When a prophecy traps a kingdom in eternal winter, Anna, a fearless optimist, teams up with extreme mountain man Kristoff and his sidekick reindeer Sven on an epic journey to find Anna's sister Elsa, the Snow Queen, and put an end to her icy spell. Encountering mystical trolls, a funny snowman named Olaf, Everest-like extremes and magic at every turn, Anna and Kristoff battle the elements in a race to save the kingdom from destruction.