'True Detective' Teaser: Harrelson And McConaughey Slowly Track A Killer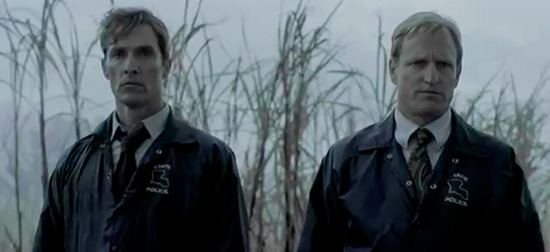 Cary Fukanaga's first feature, Sin Nombre, was a beautiful, effective drama, and his second, Jane Eyre, brought a compelling vision to the classic tale, even if it didn't quite hit the mark. All told, Fukunaga is one of the more promising new directors to emerge in the last few years, and so his HBO crime drama True Detective is super-enticing.
The show stars Woody Harrelson and Matthew McConaughey as detectives on the trail of a killer in Louisiana. Fukunaga directs the eight episodes of the first season, which hits on 2014. Nic Pizzolatto scripted. The first teaser trailer is below. It doesn't give up much about the two detectives and their decade-plus case. It does, however, tell you a lot about the tone of the series.
An EW preview features quotes from Pizzolatto about the show and describes "pessimist Rust Cohle (McConaughey) and emotional family man Martin Hart (Harrelson)" saying that the tale begins with a set of murders in 1995 and flows forward for many years. "It's more about the detectives than it is about the killer," Pizzolatto says. "We trace both the case and the relationship [between the cops] and how they change — or don't change — as the years progress."
True Detective premieres in 2014 on HBO. I love this teaser, and the fact that laying 'Jockey Full of Bourbon' by Tom Waits over it would really help it mirror the opening of Jarmusch's Down By Law.