Disney Release Dates: Muppets Sequel Now 'Muppets Most Wanted,' Plus New Marvel Films In 2016 And 2017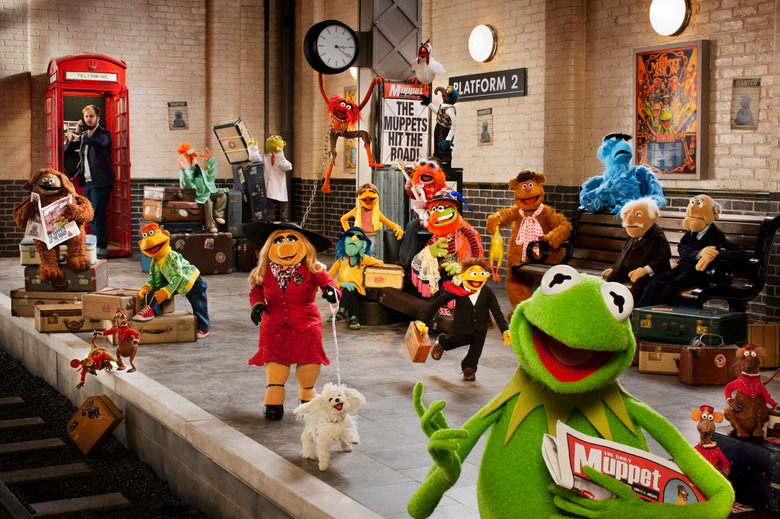 Disney just changed a bunch of release dates and titles, offering a glimpse at what the company that owns Pixar, Marvel and Lucasfilm has in store in the coming years. No Star Wars Episode VII news yet, but here are the highlights:
The Muppets ...Again has changed its title to Muppets Most Wanted. It still opens March 21, 2014.
Two untitled Marvel movies will be released May 6, 2016 and May 5, 2017.
Brad Bird's Tomorrowland arrives a week earlier on December 12, 2014.
Rob Marshall's musical Into The Woods is now scheduled for December 25, 2014.
A sequel to Planes, called Planes: Fire and Rescue, will be released on July 18, 2014.
Alexander and the Terrible, Horrible, No Good, Very Bad Day starring Steve Carell and Jennifer Garner opens October 10, 2014.
Lasse Hallestrom's The Hundred-Foot Journey comes out August 8, 2014.
There's more below.
The full press released about all these films, as well as an updated release date for Saving Mr. Banks, is below.
Before we get to that though, the two biggest take aways (besides the four new movies getting release dates) are the new Muppets title and the Marvel movies. The Muppets...Again was a clever title but, probably would have been confusing for audiences. Muppets Most Wanted is more in-line with the heist plot of the film plus rolls of the tongue quite nicely. I think it's a positive change.
As for the Marvel movies, it's not the May release dates that surprise me. The Avengers 2 will be out May 1, 2015. It's that they are only announcing one movie each for 2016 and 2017. Does that mean Marvel will only do one movie a year after The Avengers 2 in 2015? We'll likely find out at San Diego Comic-Con.
Here's full the press release.
SAVING MR. BANKS (Disney)
Now opens 12/13/13 limited. The previously announced 12/20/13 wide playdate is unchanged.
Inspired by true events, SAVING MR. BANKS is the extraordinary, untold story of how Disney's classic MARY POPPINS made it to the screen—and the testy relationship that the legendary Walt Disney had with author P.L. Travers that almost derailed it.
MUPPETS MOST WANTED (Disney)
MUPPETS MOST WANTED is the final title of the follow-up to 2011's THE MUPPETS. The previously announced 3/21/14 wide playdate is unchanged.
 Starring Ricky Gervais, Ty Burrell and Tina Fey, Disney's MUPPETS MOST WANTED takes the entire Muppets gang on a global tour where they find themselves unwittingly entangled in an international crime caper.
PLANES: FIRE & RESCUE (Disney)
Now dated on 7/18/14 wide in 3D. 
ALEXANDER AND THE TERRIBLE, HORRIBLE, NO GOOD, VERY BAD DAY (Disney)
Now dated on 10/10/14 wide.
Steve Carell and Jennifer Garner have been cast.
21 Laps and The Jim Henson Company are producing.
Miguel Arteta is directing.
ALEXANDER AND THE TERRIBLE, HORRIBLE, NO GOOD, VERY BAD DAY, based on the award-winning children's book by Judith Viorst, follows young Alexander through the mishaps of a terrible day for his family after he wishes they all would experience the same troubles he does.
TOMORROWLAND (Disney)
Moves to 12/12/14 wide (from 12/19/14 wide).
The film is being directed by Brad Bird and written and produced by Bird and Damon Lindelof.
George Clooney, Hugh Laurie, Raffey Cassidy and Thomas Robinson have been cast.
INTO THE WOODS (Disney)
Now dated on Thursday, 12/25/14 wide.
Rob Marshall is directing.
INTO THE WOODS, based on the Tony-winning original musical by James Lapine and Stephen Sondheim, surrounds a baker and his wife's quest to break a witch's curse in order to start a family.  Along the way, they encounter several well-known fairy tale characters, and together they learn what happens after "happily ever after".
THE HUNDRED-FOOT JOURNEY (DreamWorks)
Now dated on 8/8/14 wide.
Lasse Hallstrom is directing.
Steven Spielberg, Oprah Winfrey and Juliet Blake producing.
THE HUNDRED-FOOT JOURNEY, based on the international best-selling book by Richard C. Morais, tells the story of an Indian boy living in France who becomes the culinary apprentice to his father's rival. 
UNTITLED MARVEL FILMS
We've also announced dates for two UNTITLED MARVEL films (5/6/16 and 5/5/17), in line with Marvel's successful tradition of opening films in early May, including the billion-dollar hits MARVEL'S THE AVENGERS and Marvel's IRON MAN 3. We look forward to announcing more details about these films as well as the sequel to THE AVENGERS (opening 5/1/15) at a later date.