How 'Man Of Steel' Sets Up 'Justice League;' Plus 'Wonder Woman,' 'Aquaman' And 'Flash' Updates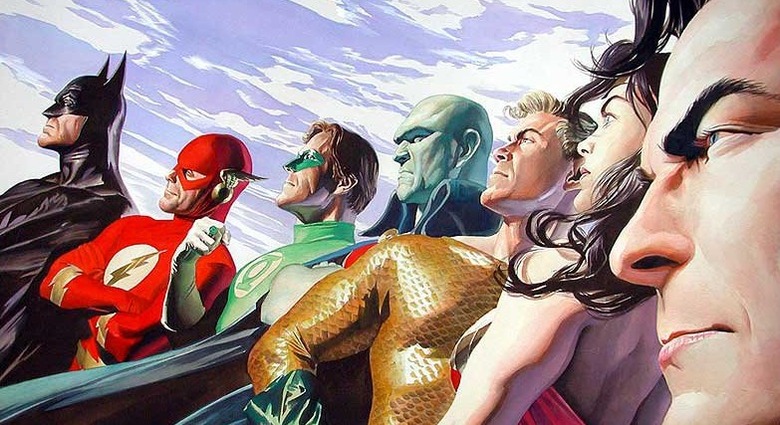 As superhero nation flocks to theaters this weekend to see Man of Steel, everyone is going to be talking about what's next. How is Warner Bros. going to continue expanding the DC Universe? What bits of this film foreshadow that expansion? And what steps will be taken to eventually get to the Justice League?
None of those questions can be fully answered yet, but screenwriter David Goyer has provided some clues. The writer of Batman Begins, Man of Steel, the upcoming Man of Steel 2 and probably even Justice League revealed that not only does Man of Steel set up that larger DC Universe in theaters, Superman's revelations in the film will directly influence characters in that world. Read his quotes, as well as a updates on Wonder Wonder, Aquaman and The Flash.
Goyer said the following to Bleeding Cool about how Man of Steel sets up Justice League:
It is our intention that, in success, [Man of Steel] would be the zero issue and from this point onward, possible films could expand into a shared universe. In our world, the Man of Steel world, Zack has gone on record saying that we're implying there are other superheroes in this world. But I don't know that they've come forward yet. The idea is that Superman is the first one. There might be people helping people, but not in costumes, and that Superman comes forward and announces himself to the world. In him announcing himself, he's the one that changes things.
Bleeding Cool then said, "So now, Bruce Wayne will feel alright in his ears, where he might not have dressed up like that before. Is that the kind of thinking?" Goyer replied as follows:
Well, yes... there's definitely... I don't want to get too in depth. Obviously, Zack and I have had conversations... but there would be a cause and effect. And that would extend to the collateral damage that happened, and to what other countries feel about the fact Superman calls America his home. Man of Steel doesn't exist in a vacuum.
So what possible heroes, besides Batman, might end up showing up? A recent report at The Wrap says that Warner Bros. is "kicking the tires on films for Wonder Woman and Aquaman." That means they've begun to dust off materials they have and started to look at possibly turning them into movies.
One DC superhero that might not be as lucky is The Flash. Man of Steel producer Charles Roven was working on a Flash film years ago, from a script by Goyer actually, but recently told /Film what happened with that:
That script that was written years and years ago was a David Goyer script and that script is not...We haven't moved forward with that script right now. That script is still... At a certain point I was taken off the Flash project. Warner Brothers asked me when they were doing their consolidation thing and they put together their first Justice League group that was going to...I think it was probably around the time just after George Miller fell out of Justice League, they announce a consolidation of their DC brand and maybe when Diane Nelson took over and Jeff [Robinov] asked me, he said "Hey, we'd just like to bring everything back other than The Dark Knight." And I said, "No problem. You guys are my partners. If that works for you, okay." So I haven't had any conversations about The Flash since that point
We'll have more on Man of Steel, Justice League and more in the coming days.