'The To Do List' Green-Band Trailer: Aubrey Plaza's Summer Of Love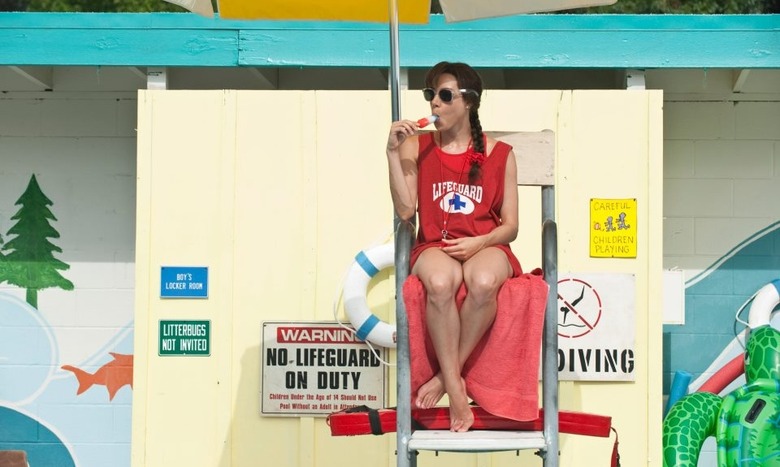 Aubrey Plaza's onscreen persona tends toward sharp and witty, but in Maggie Carey's The To Do List she plays (somewhat) against type as a naive, innocent teen. Informed by big sis Amber (Rachel Bilson) that college is "like one big sexual pop quiz," valedictorian Brandy (Plaza) decides she needs to study up — which, given her Type-A personality, means checking off a long list of sex acts in the summer between high school and college.
Her sexual journey is inspired in part by dreamy lifeguard Rusty (Scott Porter), and spurred on by a large circle of acquaintances including Alia Shawkat, Donald Glover, Christopher Mintz-Plasse, Johnny Simmons, Andy Samberg, and Bill Hader.
Tami Taylor and Agent Coulson
 Connie Britton and Clark Gregg round out the star-studded cast as Brandy's parents. Watch the green-band trailer after the jump.
Carey's decision to cast older isn't an unusual one — I'd wager that the average age of a high school movie cast is closer to 25 than 15. But perhaps because I'm so used to seeing Plaza as a married government employee on Parks & Recreation, it's weird to see her acting so young and oblivious here. The 34-year-old Porter looks even more out of place. If you think about it, he's almost old enough to play the father of his own character.
All of that might matter less if the movie itself looked, well, funnier. The trailer has its moments, but a lineup this gut-bustingly hilarious should inspire more laughs. Instead, it just looks like another disappointing reminder that a great cast can only do so much to elevate an otherwise mediocre movie.
But hey, I'd be more than happy to be proven wrong. The To Do List opens July 26.
Set in 1993, valedictorian Brandy Klark wants to shed her uptight image before college, so she assembles a to do list of all the "activities" she missed out on in high school. Quickly realizing that she's way out of her depth, Brandy solicits her best friends, older sister and burnt-out boss for their help and advice. If the group is going to complete the list by September they'll need plenty of imagination and very open minds.