Disney Considering 'Muppets' Stage Show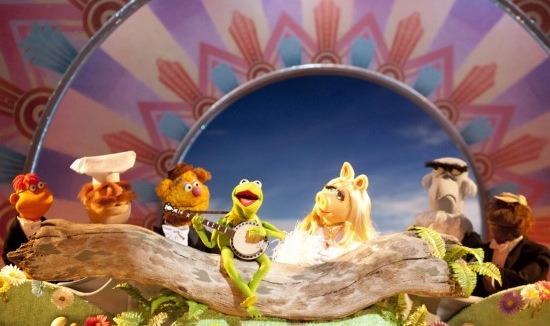 The Mouse House has had great success turning their big-screen hits into Broadway smashes in the past, with shows like Beauty and the Beast, The Lion King, Tarzan, Mary Poppins, and The Little Mermaid. Now Kermit and Miss Piggy could be headed to the Great White Way as well.
Disney Theatrical Productions is quietly exploring the possibility of a stage production centered around the Muppets, and has gone as far as staging a 15-minute presentation at the New Amsterdam Theatre in New York City. The trial was intended to test whether the puppets and puppeteers would be up for the unique challenges of a stage show — and apparently, the company was pleased with the results. More details after the jump.
However, the focus during the recent presentation was less on fleshing out story and characters than on testing the technical requirements of a puppet-centric play. The performance, which Variety describes as "short but elaborate," consisted of recycled material (e.g., "Rainbow Connection") and involved over 85 Muppets and a handful of sets.
No decision has been made regarding the possible Muppets play, but Schumacher has stated that he was "very intrigued" by the show. At this point, it might be more surprising if nothing comes of the idea. The Muppets' musical inclinations make them a natural fit for the stage, and the success of the 2011 film proved that audiences still harbor a soft spot for Kermit and his friends.
Regardless of what happens on Broadway, Muppets fans can count on seeing the gang reunited again soon. Disney and director James Bobin have the movie sequel, The Muppets... Again, scheduled for a March 21 release.