TV Bits: 'Game Of Thrones', 'Sons Of Anarchy', 'Community', 'Luther', 'Portlandia', 'Under The Dome'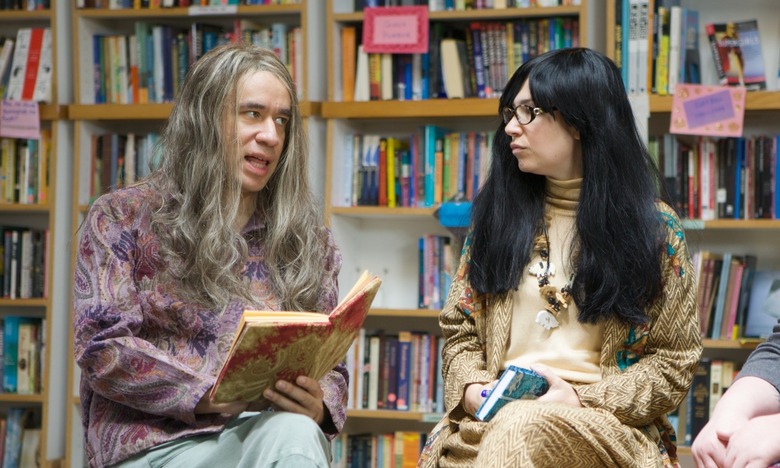 Game of Thrones has ended for the year, but its shadow continues to loom large. After the jump:
Portlandia will return for two more seasons
What happens of Game of Thrones catches up to the books?
A Sons of Anarchy prequel is still a long ways away
Dan Harmon closes his Community Season 5 deal
Harry Potter's Tom Felton will bring his sneer to TNT
Frank Darabont finds his Mickey Cohen for Lost Angels
Under the Dome plucks a star from The Following
Veronica Mars adds a bunch of fan favorites, and also Piz
Watch a trailer for the upcoming fourth season of Luther
Starz's The White Queen tries to fill the Game of Thrones gap
HBO offers new trailers for a bunch of their non-GOT shows
Since the beginning, readers of George R.R. Martin's A Song of Ice and Fire series have wondered what might happen if HBO's Game of Thrones eventually catches up to the books. Turns out the showrunners are wondering the same thing, although they hope they'll never have to find out. "We still have our fingers crossed that George will get there," said D.B. Weiss. David Benioff concurred: "Ideally the books come out first."
But should that unfortunate scenario come to pass, Martin's already divulged his plans for the saga Weiss and Benioff. That means there's at least some possibility that the HBO drama could reveal the big ending before Martin's books get to. "I don't think I'd be happy with that," Martin said.
For now, though, he isn't worried. "I think the odds against that happening are very long," he said. "I still have a lead of several gigantic books. If they include everything in the books, I don't think they're going to catch up with me. If they do, we'll have some interesting discussions." [EW]
Kurt Sutter is already dreaming up new tales to tell about SAMCRO once Sons of Anarchy ends — but he won't be telling them for a while. "Right now, it's just conversations," Sutter said of the rumored prequel series. "I want to let the property rest for a year or so after Sons is over before jumping in." The FX biker drama is expected to run until next year at least, which means the prequel won't arrive until 2016 at the earliest.
Perhaps that's just as well, since Sutter is still debating how he wants to present the new saga. "I don't know if it will be a series or a limited series of say 10 to 13 episodes," he said. "I don't want to do it as a movie – tonally, I don't see it as a movie." [Deadline]
Dan Harmon and Sony Pictures TV have officially kissed and made up. Harmon and his former co-executive producer Chris McKenna have closed their deals to return for Season 5 of Community, with Harmon once again acting as showrunner. The Community creator first slipped the news last week, but the contract had not been finalized at that point. [Deadline]
Tom Felton, a.k.a. Draco Malfoy, has booked another role as a rich asshole. At least this one's actually worked for his money. Felton will play a tech genius named Erich Blunt on TNT's mystery pilot Murder in the First, which also stars Taye Diggs and Kathleen Robertson as San Francisco PD detectives. Steven Bochco and Eric Lodal created the show. [Deadline
In other TNT casting news, Frank Darabont's Lost Angels has found its baddie. Jeremy Luke will play real-life gangster Mickey Cohen in the '40s crime drama, which depicts the LAPD's struggle against organized crime. The series will premiere next summer. [Deadline]
Add Natalie Zea to the long list of Mainers who'll be terrorized by Stephen King this summer. The The Following actress has set a "continuing" role on CBS' Under the Dome as Maxine, a troublemaker who makes an "alarming appearance" in the ninth episode. The thriller premieres Monday, June 24. [TV Line]
I suppose Veronica Mars movie casting news doesn't technically belong in TV Bits, but it is a sequel to a TV series, so just work with me here. With production scheduled to begin June 17, Rob Thomas has been scrambling to get his cast together.
Daran Norris (Cliff), Francis Capra (Weevil), Percy Daggs III (Wallace), Chris Lowell (Piz), and Christine Lakin (one-off character Susan Knight) have just been added to the roster. Enrico Colantoni, Jason Dohring, Kristen Bell, and a deep-pocketed Kickstarter contributor were previously confirmed to appear. So, who do you want to see brought back into the fold next? Mac? Dick? Officer Leo? [Facebook]
2013's looking like a very good year for Idris Elba. After this summer's Pacific Rim but before this fall's Thor: The Dark World, the Brit actor will return to the small screen for the highly anticipated third season of Luther. Check out the first trailer below.
Luther airs in four parts on BBC America from September 3-6. [BBC America]
It'll be a long time before we get to set foot in Westeros again, but in the meantime Starz will do their best to give fans their medieval drama fix. Their new show The White Queen centers on the 15th century Wars of the Roses — the same historical conflict that helped inspire the Stark-Lannister rivalry in George R.R. Martin's books. See a new trailer below.
The White Queen debuts August 10. [Starz]
Meanwhile, HBO is eager to remind you that Game of Thrones isn't the only thing they have to offer. This very weekend (specifically, June 16) brings the new season of True Blood:
Coming up on July 14 is the second season of Aaron Sorkin's The Newsroom:
The Larry David movie Clear History airs August 10:
The fourth season of Boardwalk Empire ushers in the fall slate on September 8:
And Eastbound & Down's fourth and final season arrives a few weeks later on September 29:
See? Plenty of reasons to keep that HBO subscription.