Celebrate The 20th Anniversary Of 'Jurassic Park' With An Online Art Exhibit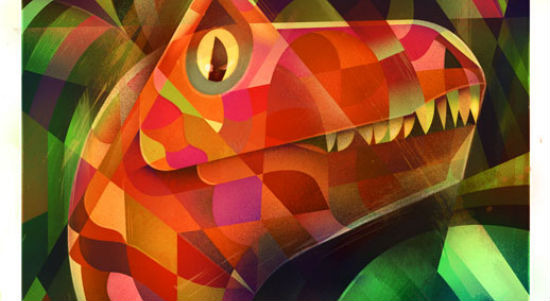 Twenty-years ago today, June 11, 1993, was a date 65 million years in the making. This is the 20th anniversary of the release of Steven Spielberg's Jurassic Park, and rarely does a movie still resonate two decades after its release like Spielberg's dinosaur action thriller does today. Fans still talk about the film on an almost daily basis, it was recently re-released in 3D, and a third sequel is in the works.
To commemorate this occasion, several artists decided to do their own online art exhibit about the film called DINO-DNA: A Tribute to Jurassic Park. Ranging from funny to subtle and back again, it's a great way to stir up some nostalgia on such a good day.
Dino-DNA was curated by Chogrin, and you can see the full show here. Below are just a few of our favorite pieces. Mouse over each for the artist name and head to the Dino-DNA site for more art and purchase information.
"DINO-DNA: A tribute to Jurassic Park" (www.dino-dna.blogspot.com) is an online art tribute to Michael Crichton's novel (www.michaelcrichton.net) & Steven Spielberg's movie masterpiece, which premiered 20 years ago on this date (June 11, 1993). The show is curated & presented by Chogrin (www.facebook.com/chogrinart), who's love for Jurassic Park was born in a movie theater back in 1993.