'The Hobbit: The Desolation Of Smaug' Teaser Trailer: Your First Look At Smaug, Legolas, Beorn And Bard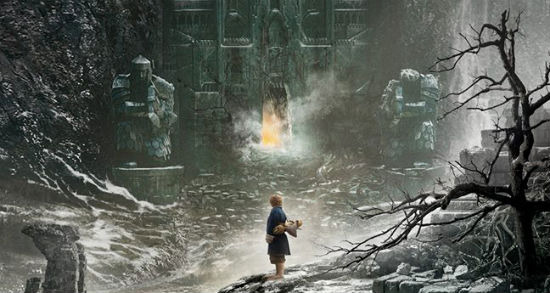 Bilbo Baggins, Gandalf and Thorin Oakenshield will continue their journey on December 13 as Peter Jackson's second Hobbit film, The Hobbit: The Desolation of Smaug, hits theaters. It's the sequel to last year's hit An Unexpected Journey and the prequel to 2014's There And Back Again. Together, they'll bridge the gap to The Lord of the Rings: The Fellowship of the Ring.
In the second chapter of The Hobbit, the band of dwarves inch closer to the Lonely Mountain and a showdown with the dangerous dragon Smaug, who long ago stole the wealth of the dwarves for himself. The first trailer for the film has now been released. It gives us an idea of just how far Jackson is pushing this second film, which will introduce characters played by Evangeline Lilly, Luke Evans, Benedict Cumberbatch among others.
Here's the official embed from Warner Bros.
Yup, that's your first, full look at Smaug, a secret Jackson has been keeping for many years. But there are also glimpses of the barrel escape, Mirkwood, Beorn the bear, Legolas and Tauriel, Bard the Bowman and others. For a teaser trailer, it's incredibly revealing and suggests The Desolation of Smaug will be way more action packed than the first film.
Do you think we'll end on a cliffhanger inside the Lonely Mountain? With the attack on Lake-town? Did you like the trailer?
The second in a trilogy of films adapting the enduringly popular masterpiece The Hobbit, by J.R.R. Tolkien, "The Hobbit: The Desolation of Smaug" continues the adventure of the title character Bilbo Baggins (Martin Freeman) as he journeys with the Wizard Gandalf (Ian McKellen) and thirteen Dwarves, led by Thorin Oakenshield (Richard Armitage) on an epic quest to reclaim the lost Dwarf Kingdom of Erebor.