Latest 'Star Wars Episode VII' Rumor Details Plot And Main Characters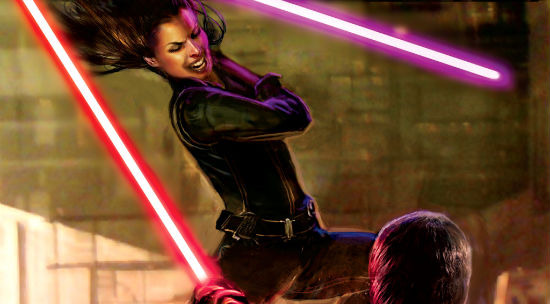 It feels like...hours since we've had a fun, juicy Star Wars Episode VII rumor to chew on. The latest one is potentially the biggest yet because it deals with not only the potential main characters of the film, but the roles they play as well. Yes, we're finally talking Star Wars Episode VII plotlines.
Those adverse to spoilers should probably stay away, however, anyone with a limited knowledge of the Star Wars Expanded Universe will find the rumored information more than a little familiar.
Schmoes Know (via Latino-Review) supposedly intercepted a plot and character breakdown sent out from J.J. Abrams and Bad Robot. This is where lots of secrets begin to get revealed, once outside agencies get involved. So at least the narrative of this scoop makes sense. Whether or not it's true, we'll discuss below.
Storyline: Two 17 year old twins, a girl and a boy, are trained by their uncle Luke to be the greatest Jedi's in the galaxy. Problems arise when the male twin turns to the dark side.
Jaina Solo – Female, 17 years old, lead. – Jacen's twin sister, one of the greatest Jedi's in the galaxy, trained by her uncle Luke Skywalker
Jacen Solo – Male, 17 years old, lead – Jaina's twin brother, one of the greatest Jedi's in the world. A loner who is constantly struggling with the idea of what's right and what's wrong. Starts to turn to the dark side. Full of conviction that what he is doing is the "right thing". Will eventually become Darth Caedus.
Here's the problem with this information. It's almost directly borrowed from the Expanded Universe novels by Timothy Zahn, Kevin J. Anderson, Troy Denning and others. So if someone was to totally fabricate a scoop, that would be a plausible place to take it from. Not to mention Episode VII producer Lawrence Kasdan  said he would not be mining from previously written stories.
But Kasdan only spoke for himself in that quote. Abrams recently said "No Comment" when asked the same question. Plus, where else could these stories go? We know for a fact it'll be the next generation of Skywalkers/Solos. We've heard rumors the main hero would be a girl. And there has to be some kind of Sith element, otherwise no one will ever break out a lightsaber.
Compelling arguments on both sides and this Star Wars fan tends to think the above story and characters are at least partially legit. This might not be the 100% authentic casting breakdown from the desk of J.J. Abrams himself, but, something close is likely circulating.