Edgar Wright's 'The World's End' Gets Six Pub-Themed Character Posters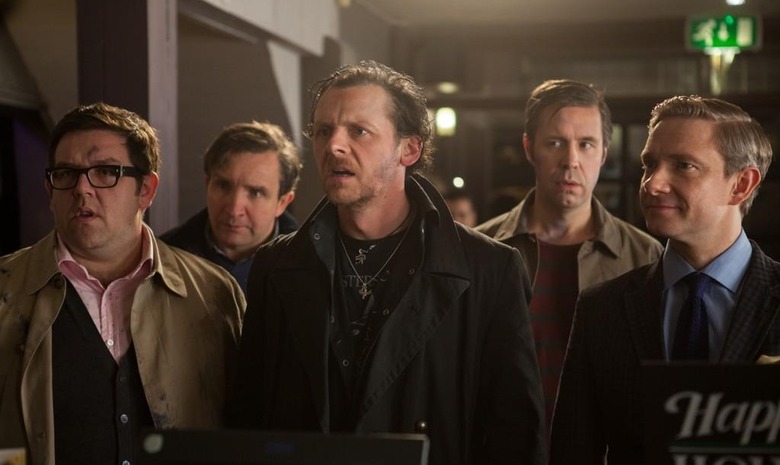 If the world must end — and film after film lately suggests it must – there are worse ways to go than with a frosty pint and some good company. It's lucky for the gang at the center of Edgar Wright's The World's End, then, that they're already in the middle of an epic pub crawl when they learn that humankind may not be long for this world.
The new set of posters for the film celebrate both the characters and the bars they visit, by assigning clever pub-themed identities to each member of the group (specifically Simon Pegg, Nick Frost, Martin Freeman, Rosamund Pike, Eddie Marsan, and Paddy Considine). Check 'em out after the jump.
Some of the monikers come from from that earlier teaser poster listing all twelve of the group's boozy stops, while others seem to have been made up just for this occasion.
The new posters don't really give away much about the film's plot, but it is already apparent that some of these people will be better equipped to handle the apocalypse than others. Pike looks ready to take out any attackers with that chair, while Frost just looks like a deer in the headlights. For more on what the film's actually about, revisit the trailer here.
The World's End arrives August 23 in the U.S. and July 19 in the U.K.
20 years after attempting an epic pub crawl, five childhood friends reunite when one of them becomes hell bent on trying the drinking marathon again. They are convinced to stage an encore by mate Gary King (Pegg), a 40-year old man trapped at the cigarette end of his teens, who drags his reluctant pals to their home town and once again attempts to reach the fabled pub, The World's End. As they attempt to reconcile the past and present, they realize the real struggle is for the future, not just theirs but humankind's. Reaching The World's End is the least of their worries.