TV Bits: 'Arrested Development', 'The Bridge', 'Orange Is The New Black', Jerry Seinfeld, Bryan Singer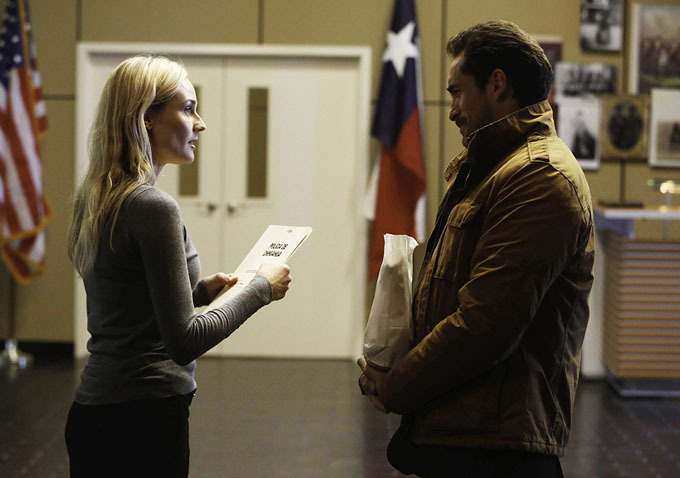 Gather 'round, kids, and let's watch some things advertising other things to watch. After the jump:
Mitch Hurwitz reveals his scrapped plans for a George Clooney cameo in Arrested Development
ABC picks up a drama from The L Word's Ilene Chaiken and Bryan Singer
BBC One and the Jim Henson Co. are teaming for a new Muppets-like show
Here's what Helena Bonham Carter looks like as Elizabeth Taylor
See a teaser for The Anna Nicole Story, from American Psycho's Mary Harron
Watch a trailer for Netflix's next original series Orange Is the New Black
FX's latest promo for The Bridge is full of border-related factoids
Jerry Seinfeld's Comedians in Cars Getting Coffee returns this month
George Sr. has this land in Mexico and they was going to be constantly spooked and chased off the land by these really handsome men — we were going to get people like George Clooney," he explained. "And they'd be like, 'Who are these guys? Who are these Mexicans that are trying to get us off their property?' And at one point [one of the men was] going to say, 'We are the Mexican Romneys!'
The thought of Clooney crossing paths with the Bluths is a fun one, but I can't say the season seemed to suffer much for its lack. Are you bummed the storyline got cut? [TV Line]
Bryan Singer has lined up another TV project. ABC is nearing a 13-episode, straight-to-series order for The Black Box, which Singer is executive producing with Oly Obst, Anne Thomopolos, The L Word creator Ilene Chaiken, and Mystic Pizza scribe Amy Holden Jones.
Jones wrote the script, which centers on a respected neuroscientist who's struggling with her own mental illness, among other deep dark secrets. The drama is expected to air in midseason. [Deadline]
The Muppet Show isn't coming back, but a similar program is on its way to BBC One in the near future. The channel has teamed with the Jim Henson Co. for The Puppet Game Show, which will air Saturday nights starting later this year.
The show's format involves lots of puppets and two (human) celebrity guests, who compete in various activites to earn money for charity. That action will be alternated with behind-the-scenes shenanigans featuring puppet characters like Mancie the producer, Udders McGhee the exec, and Dougie Colon the host. [Deadline]
Lindsay Lohan didn't turn out to be much of an Elizabeth Taylor, to the surprise of absolutely no one. Fortunately, there's another Taylor biopic coming our way to help wipe away those memories.
Helena Bonham Carter and Dominic West are the stars of Burton and Taylor, a BBC4 movie centered around the couple's 1983 revival of Noel Coward's Private Lives. See a first promo pic below.
[Vulture]
Speaking of Lifetime: There isn't much that Patrick Bateman and Anna Nicole Smith have in common, but Mary Harron is one of them. The American Psycho director took the reins for The Anna Nicole Story, starring Agnes Bruckner as the late actress and model.
The Anna Nicole Story airs on Lifetime June 29. [via THR]
Some of us are still working our way through Netflix's last original offering, the new season of Arrested Development. But already the streaming service has put out a trailer for their next new series, Orange Is the New Black.
Created by Jenji Kohan (Weeds) and based on Piper Kerman's memoir, the comedic drama stars Taylor Schilling as a woman who's sent to prison when a youthful indiscretion catches up to her. Watch the NSFW trailer below.
Finding the right balance between dark humor and emotional drama can be tricky, but when done right it can also be incredibly interesting. It's too soon to say whether Kohan nails it here, but I'm feeling optimistic. The entire 13-episode season of Orange Is the New Black hits July 11. [Netflix]
The latest promo video for FX's highly anticipated The Bridge doesn't feature any footage from the show, but it does have plenty of trivia about the U.S.-Mexico border.
Diane Kruger and Demián Bichir play cops from opposite sides of the border to catch a serial killer that's working both countries. The Bridge premieres July 10. [FX]
Jerry Seinfeld is prepared to hang out with his famous friends for a whole other season. A trailer has debuted for Season 2 of his webseries Comedians in Cars Getting Coffee, featuring funny guests like Sarah Silverman, Chris Rock, David Letterman, Don Rickles, and Seth Meyers.
New episodes will hit Crackle each Thursday at 12 PM Eastern time, starting June 13. [JerrySeinfeld.com]