'Eastbound & Down' Will End After Upcoming Fourth Season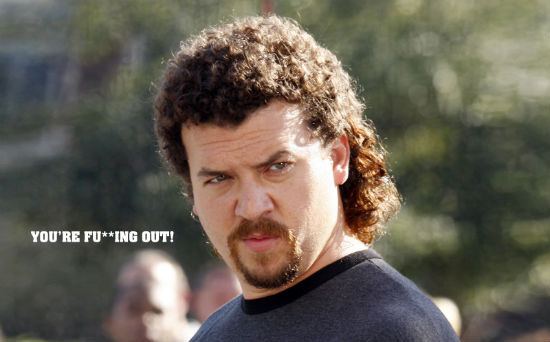 Four strikes and Kenny Powers is finally out. The popular HBO show Eastbound & Down is set to start filming its fourth season this week and will premiere on September 29. Then that's it. Though there was some question after the second and third seasons of the Danny McBride/Jody Hill show as to what would happen next, HBO has decided the fourth season will be its last.
UPDATE: McBride will not be gone from TV though, the new station FXX has just picked up his animated comedy show Chozen.
The fourth and final season of Eastbound & Down will be comprised of eight episodes set several years after the end of last season. (Which — spoiler warning — featured Powers faking his own death so he could be with the woman he loves.)
Here's the press release:
EASTBOUND & DOWN, the raucous HBO comedy series from creators Danny McBride and Jody Hill, begins shooting its eight-episode fourth and final season tomorrow in North Carolina, with the season scheduled to launch SUNDAY, SEPT. 29 (10:00-10:30 p.m. ET/PT). McBride stars in the show as the irrepressible Kenny Powers, the former major league pitcher who is larger than life... and death.
In the third season of EASTBOUND & DOWN, which concluded in April 2012, Kenny Powers finally made it back to the majors and recaptured his former glory, only to fake his own death and run back home to his beloved April, the mother of his child. The upcoming fourth season picks up the action several years later and finds Kenny living the American Dream with his family in North Carolina.
The third season of EASTBOUND & DOWN inspired raves, with People calling it "Terrific. The jokes take off on all sorts of unexpected trajectories – foul balls that score...Four out of four stars," whileEntertainment Weekly said, "You should make time to get down with 'Down'," rewarding the show an A-.
EASTBOUND & DOWN is executive produced by Jody Hill, Danny McBride, Will Ferrell, Chris Henchy and Adam McKay
Do you think this is the right time for Kenny Powers to hang up his hat?
Also, Deadline reported that McBride's new animated pilot Chozen has been picked up by FXX. It's about "about a gay white rapper fresh out of prison with a new message and new skills, which he will use in his quest for redemption and domination." SNL's Bobby Moynihan will voice the main character and McBride will  executive produce with Jody Hill. Grant Dekernion is the lead writer and creator.