Warner Bros. Making Live-Action 'Archie' Movie, Possibly With Zombies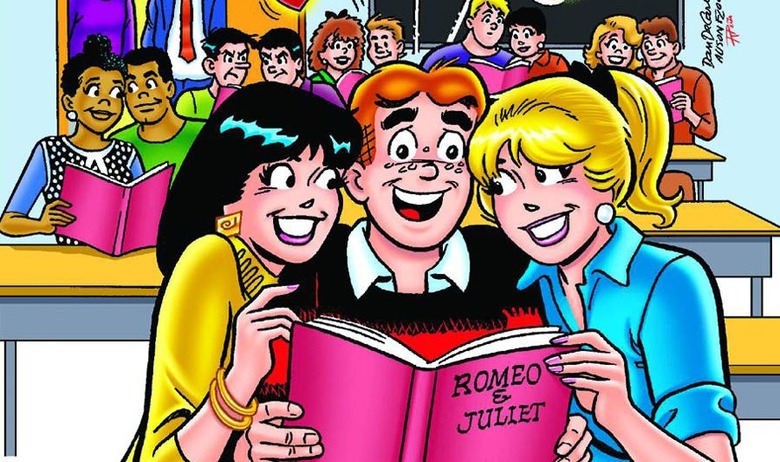 Just about every other popular comic book character has made it to the big screen in one form or other, so it was just a matter of time before someone got it in their head to make Archie into a feature film. And that someone, apparently, is Warner Bros.
The studio has just closed a deal to make a live-action movie based on the long-running comic, with Jason Moore (Pitch Perfect) directing and Roberto Aguirre-Sacasa (the new Carrie) writing. There's no official logline right now, but there's reason to believe the team will spice up Archie's usual high school shenanigans with the presence of zombies. Yes, really. Hit the jump to learn what Archie has to do with the undead.
However, Afterlife with Archie isn't the writer's only brush with the residents of Riverdale. In 2003, he wrote a play called Archie's Weird Fantasy that imagined the characters all grown up, but had to rework it as Weird Comic Book Fantasy when Archie Comics issues a cease-and-desist letter. More recently, he was hired to write for TV show Glee and then the crossover comic book miniseries Archie Meets Glee.
Outside of Riverdale, Aguirre-Sacasa's resume includes several Marvel Comics titles, rewrite work on Broadway's Spider-Man: Turn Off the Dark, a stage musical adaptation of Bret Easton Ellis' American Psycho, Kimberly Peirce's Carrie remake, MGM's The Town That Dreaded Sundown remake, and episodes of Big Love and Glee.
The character of Archie was first created in 1941, inspired by Mickey Rooney's Andy Hardy films. Over the decades, there have been several TV series based on various Archie Comics properties, including two Archie-centric cartoons and spinoffs built around Josie and the Pussycats and Sabrina, the Teenage Witch. The character of Archie has also appeared in live-action form twice, once in an early '70s TV special and once in a 1990 TV movie.