'Getaway' Trailer: Just Drive, Ethan Hawke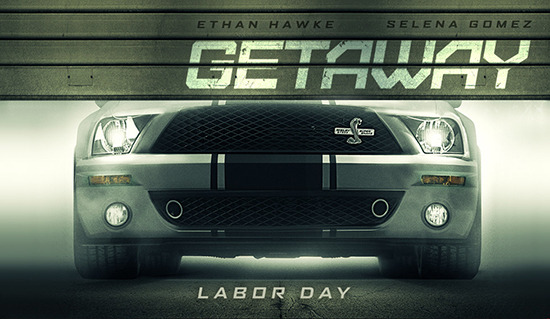 Confession: for a long time I didn't like Ethan Hawke. I can't even remember why; the reason was irrational, I'm sure. Probably something along the lines of "I don't like his face," the sort of snap judgement made when you're young, which sticks just because it's there. I've long since revised my stance, mostly because it was stupid.
For anyone else who still harbors a lack of good feelings towards Hawke, check out the AMA he did at Reddit yesterday, which is one of the better actor/fan exchanges I've seen. Or see Before Midnight, which is great. The Purge also opens this week, and while it is less great, the fault (as with Sinister) isn't with Hawke.
There's actually a minor explosion of genre movies featuring Hawke. In addition to those two horror pictures there's Getaway, which co-stars Selena Gomez, and also a car. This isn't The Getaway, which would be the story by Jim Thompson that has already been adapted twice, and influenced From Dusk Till Dawn. This is a different straight-up race movie, pared down to the bare essentials. The trailer is below, and it builds to a nice pitch.
The concept here is pretty ridiculous, but who cares? If it works in context — if Hawke and Gomez can sell the whole package, as director Courtney Solomon sells the action, then the silly plot won't matter. Now, since Solomon's last two features are Dungeons & Dragons and An American Haunting, we'll see how that goes.
Getaway opens August 30. Apple has the trailer.
Getaway is the gritty, heart-pounding action thriller from Warner Bros. Pictures and Dark Castle Entertainment in which former race car driver Brent Magna (Ethan Hawke) is pitted against the clock. Desperately trying to save the life of his kidnapped wife, Brent commandeers a custom Shelby Cobra Mustang, taking it and its unwitting owner (Selena Gomez) on a high-speed race against time, at the command of the mysterious villain holding his wife hostage.