Cool Stuff: 'The Wizard Of Oz' By Tom Whalen; Plus 'Knighty Knight Bugs' And 'The Black Beetle'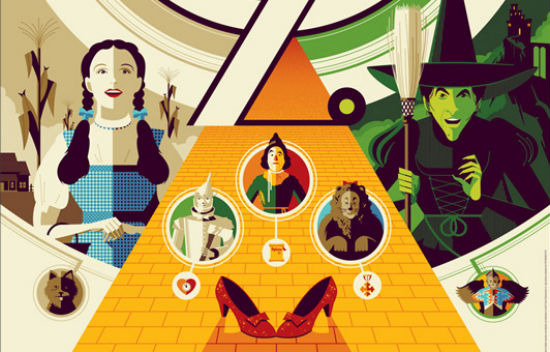 If we're lucky, every few months a poster is released that makes you step back from your computer and stare. A poster so gorgeous, fans and non-fans a like will bask in its beauty. Some previous examples are Olly Moss's Star Wars posters, Ken Taylor's Halloween poster, Tyler Stout's Akira, Aaron Horkey's There Will be Blood and now, you can add Tom Whalen's The Wizard of Oz to the list.
Whalen has long been a favorite, both here on /Film and in galleries across the country. Working consistently for Mondo and Gallery 1988 has helped the Pennsylvania-based artist develop quite a following and, as fantastic as his work always is, this poster – made for Mondo –  takes the cake. It's epic, evocative and sure to be incredibly difficult to obtain.
Check out the full image after the jump along with another new Whalen poster from, for the Looney Tunes short Knighty Knight Bugs, as well as two comic-themed posters for The Black Beetle by Francesco Francavilla.
First up, here are Tom Whalen's latest two posters, for The Wizard of Oz and Knighty Knight Bugs.
Knighty Knight Bugs is an 18"x24" screen print in an edition of 275. It'll cost $40. The Wizard of Oz is 24"x36" screen print in an edition of 350. It'll cost $60. Both will be available Thursday June 6 at a random time by following @MondoNews.
Next up, comic artist Francesco Francavilla has taken his Dark Horse comic property The Black Beetle and, with the help of Mondo, turned it into a poster. Here is the regular and variant courtesy of Comics Alliance.
The variant will be available exclusively at HeroesCon in North Carolina in a $75 edition for 110. The regular will be on sale in the coming weeks @MondoNews, its an edition of 225 and will cost $55. Both are 24"X36".
Do you agree with my assessment in regards to The Wizard of Oz?