TV Bits: 'Dexter', 'Boardwalk Empire', 'Downton Abbey', 'The Borgias', 'The IT Crowd', Larry David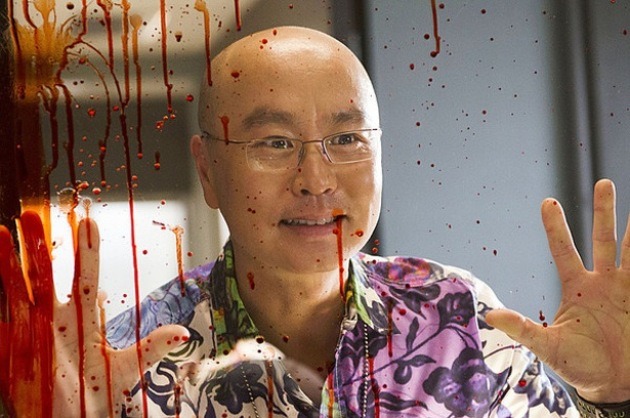 Look how excited Masuka is about the impending return of Dexter. After the jump:
HBO sets Boardwalk Empire and Hello Ladies premiere dates
Bobby Cannavale joins Martin Scorsese's HBO pilot
Michelle Fairley (a.k.a. Catelyn Stark) heads to Suits
Dan Stevens is sorry about that Downton Abbey stuff
The IT Crowd crowd is back at work for one last episode
Showtime's Shameless loses one of its regulars
Nurse Jackie will stick around for another year
The Borgias will end after Season 3, won't get a movie
Peek at photos from the Dexter Season 8 premiere
Following a season-long arc on Boardwalk Empire, Bobby Cannavale is getting ready to work with HBO again. The actor is nearing a deal for an untitled rock 'n' roll drama pilot from Terence Winter, Martin Scorsese, and Mick Jagger. The '70s series centers on Richie Finestra (Cannavale), a charismatic A&R exec in New York City. [THR]
Michelle Fairley is trading Catelyn Stark's medieval furs for contemporary office attire. The Game of Thrones actress has booked a recurring role on the upcoming third season of USA's Suits, playing a British oil tycoon battling a lawsuit. Her first appearance will be on the July 16 premiere. [TV Line]Dan Stevens has heard how upset Downton Abbey fans were about (spoiler alert!) Matthew Crawley's unceremonious exit last Christmas, and he feels bad. "I really am sorry about that," he said in an interview with Radio Times. "I think what emerged is that it's an unwritten rule that you're not supposed to die on British television on Christmas Day. That, specifically, was not my doing."
Though Matthew's end only came about because of Stevens' decision to leave the show, he insists how it came about wasn't his idea. "I didn't have any say in the manner in which he went. Ultimately, it was in the hands of Julian [Fellowes] and the producers," he explained. [via Vulture]
Richard Ayoade and Chris O'Dowd have kept themselves busy with features lately, but they're heading back to the musty basement of Reynholm Industries one last time. Graham Linehan uploaded a pic of Ayoade, O'Dowd, and Katherine Parkinson finishing up rehearsals for The IT Crowd's wrap-up special.
The 40-minute finale will air later this year, three years after the last season ended. [Twitpic]
Looks like Jimmy and Fiona's on-again, off-again romance on Shameless really and truly is off for good. Justin Chatwin, last seen (spoiler alert!) heading to his apparent death in the Season 3 finale, will not be back as a regular for the upcoming fourth season.
That said, we may not have seen the last of him. Showtime is leaving open the possibility that the character could reappear in some way next season. Shameless' fourth season will air next year. [THR]
Nurse Jackie will live on another year. Showtime has renewed the Edie Falco-starring dramedy for a sixth season, just as the fifth season heads toward its finale on June 16.
"Under the new leadership of Clyde Phillips, and with an amazing cast led by Edie Falco, this show is as sharp and compelling and entertaining as ever," said Showtime president David Nevins in a statement. "I'm excited to get to see the next chapter in Jackie's life." [TV Line]
Enjoy the next couple episodes of The Borgias, because they'll be the last. Though there was talk that the historical saga could wrap up with a two-hour movie, creator Neil Jordan says Showtime has deemed the plan too expensive. As a result, the Season 3 finale on June 16 will serve as the series finale.
Jordan explained what he had envisioned for the two-hour finale. "I wanted a totally biblical ending, for the pope to burn in hell," he said. Specifically, he wanted the pope confessing his sins on his deathbed, only to be told he's already dead and in hell. "This satisfies all moral feelings about the pope," he explained. [Deadline]
Dexter Morgan is probably in for some serious drama when Dexter's final season gets underway later this month. For now, though, he looks like he's doing pretty well. Showtime has released a new batch of photos from the Season 8 premiere, and you can check 'em out below.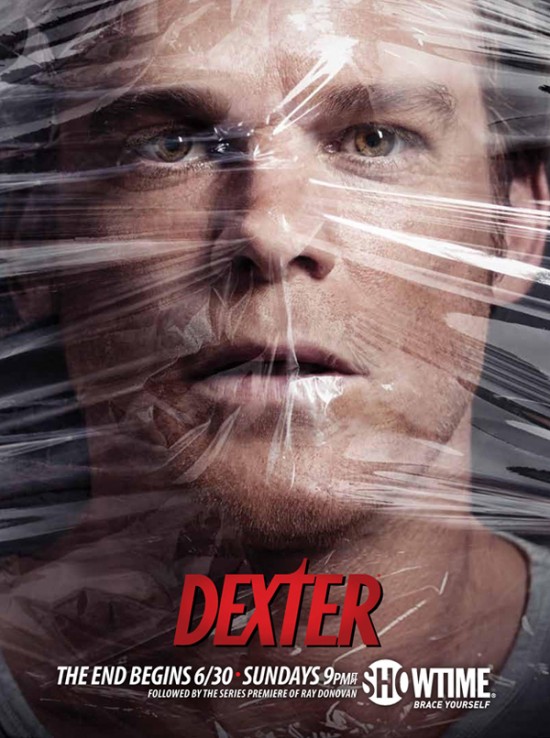 The serial killer drama returns June 30. [Showtime]
It's tough to blame folks for feeling a bit conflicted about the return of AMC's The Killing after two disappointing seasons. But the reviews for Sunday's premiere were kinda encouraging, so... maybe it'll be different this time around? If you want to take that chance, you can check out the first episode below.
The next episode airs this Sunday. [AMC]