Sequel Bits: '22 Jump Street', 'Transformers 4', 'World War Z', 'Machete Kills', 'Monsters University'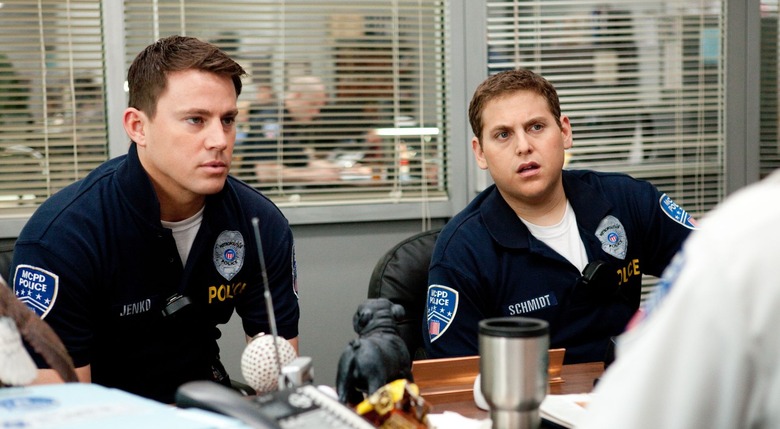 The still above from 21 Jump Street is an accurate representation of my reaction to the reveal that the sequel will be called 22 Jump Street. Also after the jump:
Check out pics from Transformers 4's Texas set
How much of Transformers 4 is set in China?
Freida Pinto and James Franco won't return (duh) for more Apes 
Marc Forster is "open" to a World War Z sequel
Sofia Vergara gets another Machete Kills poster
See a trailer for Despicable Me 2's "Minion Rush" game
Watch tons of B-roll and interviews from Monsters University
I mean, does this suggest that 22 Jump Street takes place across the street from 21 Jump Street? Or are we to understand that 22 Jump Street is the 22nd in a long-running series of Jump Street movies? Where are Jump Streets 1-20, then? I presume all will be revealed when the film opens June 13, 2014. [Sony]
With shooting for Transformers 4 currently underway in Pflugerville, Texas, a few eagle-eyed fans have noticed what appears to be more vehicles and a set from the movie.
The cars in the two pics below are too far away to reveal much detail, but some commenters on Transformers Live have noted that "one of the vehicles is nearly identical to one used in Revenge of the Fallen and the other has been IDed as a Rally Fighter."
Meanwhile, On Location Vacations has posted a distant photo of what appears to be a rural set.
Despite all the images coming out of Texas, though, there's reason to believe a lot of the film will take place in China. Marc Ganis, president of Transformers 4 co-producer Jiaflix Enterprises, has said that "Effectively, China is a character" in the movie since "so much" of it takes place in the country.
And according to him, that'll be true no matter what country you watch it in — unlike Iron Man 3 or Looper, Transformers 4 won't have a special China-only edit. "There is going to be a single version worldwide with a very significant Chinese component," he said.
What "very significant" means is open to interpretation, though. And Transformers 4 is spending a lot of time shooting in the U.S. as well as China. In any case, the film opens June 27, 2014. [Xinhua via Transformers Live]
Matt Reeves has a promising cast lined up for Dawn of the Planet of the Apes, but James Franco and Freida Pinto won't be part of it. "The sequel's on, but we're not in it," Pinto confirmed in a recent interview. "It's a whole new cast. It would have been great to [do the sequel], but I don't know how they would bring our characters back in."
Pinto's update shouldn't come as much of a shock. Franco, at least, was expected to appear in the sequel when Rupert Wyatt was still attached to direct, but said last December that he hadn't spoken with anyone since Reeves boarded. Dawn of the Planet of the Apes premieres May 23, 2014. [Digital Spy]
Marc Forster and Brad Pitt could be ready to face even more zombie hordes if World War Z does well. At the film's London premiere, Forster stated that he'd be "open to a sequel" in the future.
"There is so much in that book, and we have plenty of ideas," he said. "If this one works we certainly have plenty of ideas." That's a big if at this point, but fans can keep their fingers crossed when the first World War Z hits theaters June 21. [Hey U Guys]
Robert Rodriguez's Machete Kills has gotten tons of mileage out of that image of Sofia Vergara with bullet-spewing boobs, but it turns out that deadly bra isn't her only weapon. A second poster for her character Desdemona shows her wielding a couple of whips as well. Kinky.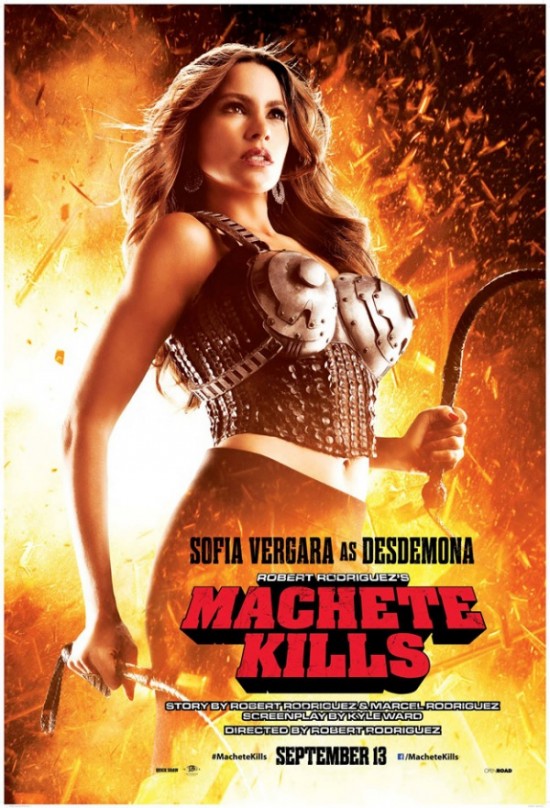 Machete Kills opens September 13.
Why just watch minions wreak havoc in Despicable Me 2 when you can join in on the fun? See a new promo for the tie-in mobile game Minion Rush below.
Despicable Me: Minion Rush comes to to iPhone, iPad, iPod Touch, and Android this month. Keep an eye on the official site for updates. Despicable Me 2 lands July 3. [Facebook]
The release of Monsters University is only two and a half weeks away at this point, but if you simply can't wait that long to learn all about the film, a crap ton of B-roll and cast interviews have just hit the web.
There are so many new videos, in fact, that I'm not going to bother to put them all here. You can watch see director Dan Scanlon and leads John Goodman and Billy Crystal chat about the movie below; for other stars and filmmakers including Alfred Molina, Aubrey Plaza, Bobby Moynihan, Charlie Day, Helen Mirren, Nathan Fillion, and Steve Buscemi just click over to Trailer Addicts. Be warned that their B-roll videos may contain spoilers.
Monsters University opens for classes June 21. [via Pixar Planet]