/Film Austin: Spend The Summer With Festival Favorites Thanks To Cinema East 2013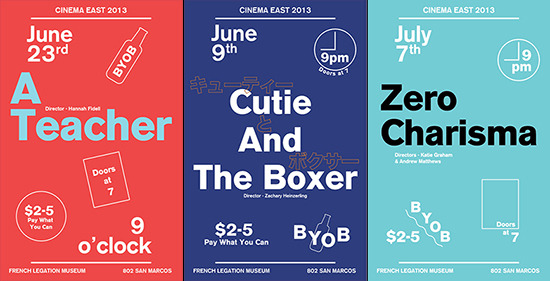 Briefly: Your typical outdoor summer screening series is a cavalcade of well-known hits; there'll be a Spielberg film, a musical or comedy classic or two, maybe Gone With the Wind or Lawrence of Arabia. CinemaEast, which kicks off its 2013 program in Austin this weekend, is appealingly different. The program features films like the documentary Cutie and the Boxer, a really tremendous film that was one of the best entries at Sundance this year, and Zero Charisma, the great geek culture entry from SXSW.
Screenings are cheap ($2-5, with a loose "pay what you want" scheme) and set for Sunday nights at the lovely French Legation Museum in East Austin. All will be preceded by a short film, and many will have filmmakers in attendance for Q&A sessions. The screenings are BYOB, and Austin360 notes that "food and drink are sold on premises by The Hot Dog King, Cool Haus, Juiceland and Cornucopia."
The schedule is at cinemaeastaustin.com, and the fest has a new Twitter account, too.