'The Spoils Of Babylon' Teaser: The 'Casa De Mi Padre' Crew Tackles '80s Event Television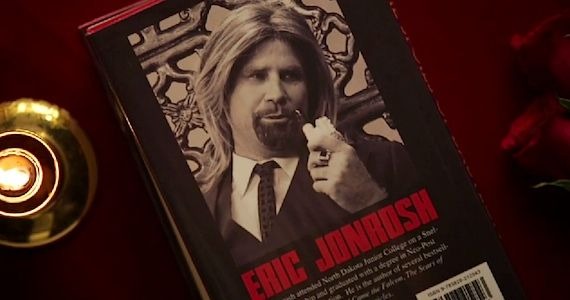 Will Ferrell and Adam McKay are living in the past. The modern TV "event series" has its roots in, well, Roots, and other mini-series adaptations of popular epic fiction. The late '70s and early '80s saw a rash of highly-touted adaptations of historical novels and family sagas, with the runaway success of Roots followed by Jesus of Nazareth, Shogun, The Thorn Birds, The Winds of War, and many more.
The basic format has changed little today — you'll still see mini-series novel adaptations with a high-profile cast and a budget that outstrips some television. but there's a way of advertising these events that has changed a little bit.
For their IFC mini-series The Spoils of Babylon, Ferrell and McKay are taking aim at those TV events, and they've appropriated the old '80s ad style to go along with it. Or a comic version of it, at least. I don't know if this will work on people under 30, but anyone who was watching TV in the late '70s and early '80s will chuckle at this spot. (The series features Ferrell, Kristin Wiig, Tobey Maguire, Jessica Alba, Michael Sheen, Val Kilmer, Tim Robbins and Haley Joel Osment, but none of them show up in this teaser, just warning.)
Former SNL writer and Casa de mi Padre director Matt Piedmont directs the series. Will it end up better than that film did, or will this be a long in-joke aimed squarely at this comedy collective's most ardent fans?
Here's a synopsis of the series, which shoots later this year and premieres next year:
'The Spoils of Babylon,' a century-spanning saga, chronicles the sexy and dramatic lives of the Morehouse family, led by Jonas Morehouse (Robbins), his daughter Cynthia (Wiig) and her adopted brother Devon (Maguire) who made their fortune in the oil business. The series takes viewers from the oil fields of Texas to boardrooms in New York City, through war torn battlefields and velvet-sheeted bedrooms.
Cynthia and Devon's unbridled and taboo passion for one another cannot be prevented. Add in Cynthia's evil son Winston (Osment), her put upon husband Chet Halner (Sheen), and Devon's new love interest Dixie Mellonworth (Alba), and the booze, the pills, more passion, more pills and the heartache, and you have a mercurial potboiler. Then add in illegal arms deals, international espionage, the Shah of Iran (Ferrell), and two US Army Generals (Kilmer, Steve Tom) and it begins to overflow with boiling liquid in a pot on a hot stove that is operational.