Star Wars Bits: Al Pacino, Leonard Nimoy, Make-A-Wish, 'Attack Of The Clones', 'Return Of The Jedi'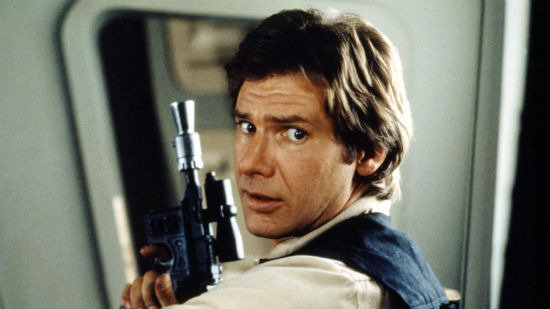 If J.J. Abrams really does cast Leonard Nimoy in Star Wars Episode VII, as the Star Trek actor suggests, do you think that's more likely to heighten or defuse the Wars / Trek rivalry? Also after the jump:
Al Pacino explains why he said no to Han Solo
See Episode II in 3D at Star Wars Celebration Europe
Kyle Newman offers a longer cut The Return of The Return of the Jedi
Nerdist promotes the Star Wars: Course of the Force charity run
See an unused poster concept for the original Star Wars
Oooh. Ooooh, wouldn't that be fun. I would love to. [...] I think it would work wonderfully. I think it would work just great. I think it would be a great idea, and somebody ought to tell him that.
Yes, somebody ought to. And while we're at it, let's see if Abrams can make room for Nimoy's old pal William Shatner as well... [StarTrek.com]
In retrospect, it's impossible to imagine anyone but Harrison Ford as Han Solo. Back when George Lucas was still mulling it over, though, Ford wasn't his initial first choice. Among the other actors he considered were Jack Nicholson, Chevy Chase, Bill Murray, and Al Pacino.
The last of those has now gone on record with a frank explanation of why he turned down a lead role in what would become one of the most successful movies of all time. "[The Han Solo part] was mine for the taking but I didn't understand the script," Pacino said. Probably for the best the he walked away, then. [The Telegraph]
Plans to re-release Episode II: Attack of the Clones in 3D were scrapped when Disney/Lucasfilm decided to focus on Episode VII instead. But disappointed fans (there are a few of you out there, right?) can still get their chance to see Hayden Christensen's teen angst flying right at their faces this summer.
The studio has just announced that the film will get a limited 3D engagement running July 26-28 at Star Wars Celebration Europe in Essen, Germany. To commemorate the special event, attendees will also receive souvenir 3D glasses. Visit the convention's official website for ticketing info. [StarWars.com]
To mark this year's 30th anniversary of Episode VI: Return of the Jedi, Fanboys helmer Kyle Newman put together a sweet tribute titled Return of The Return of the Jedi featuring several of his famous friends. The video aired in front of special May 4th screenings last month, but now a longer special edit has hit the web.
In the blog post revealing the video, Newman discussed what the film meant to him.
Return of the Jedi will always remain an iconic and special film to me. It hit theaters when I was seven years old...and highly impressionable.Star Wars: A New Hope caught my imagination when I was a mere toddler, and Empire cemented my obsession, but Jedi wrapped it up with aplomb and turned me on to the art of movie making. Through Jedi I suddenly became aware that these films were stories people told. I became fascinated by the craft. And a whole new world opened up to me. So I will always be grateful to Jedi.
Read more, including his thoughts on what makes Jedi such a bold film, at StarWars.com.
Lightsaber-based heroics aren't limited to Jedi knights. Last year, thousands of runners collectively raised $100,000 for the Make-A-Wish Foundation at the first annual Star Wars: Course of the Force lightsaber relay run on the coast of California.
But before this year's festivities can begin, comedian Matt Mira will have to track down the lightsaber used for the race. Nerdist has revealed the first of six webisodes chronicling his (fictional) quest. R2-D2 and Princess Leia — I mean Chris Hardwick — also make appearances.
Course of the Force begins July 9 at Skywalker Ranch and ends July 16 at San Diego Comic-Con. Click here to register or get more details. [via THR]
We're all familiar with the iconic posters for the original Star Wars, but recently an unused poster concept for the film has hit the web.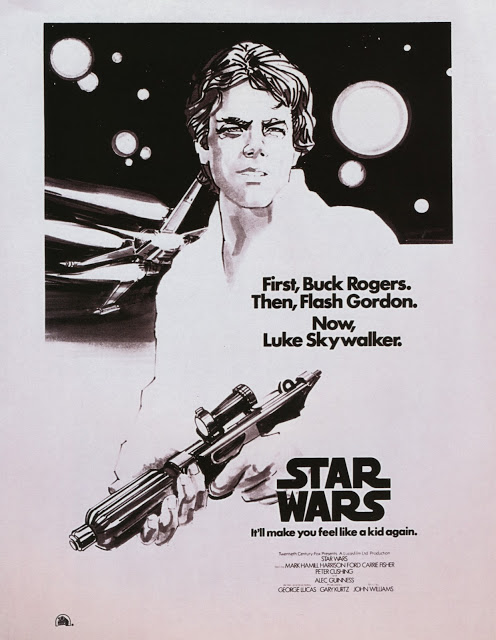 Space: 1970, which posted the image, offers a bit of background info.
The graphic design is strong, and from a marketing perspective, it's an interesting approach. There was a lot of pop culture nostalgia in the air in the mid-Seventies, so I can see why someone at Fox might propose that angle as a way to sell George Lucas' space opera to the masses. Of course, what's so ironic about this is that it was the spectacular success of Luke Skywalker that paved the way for both Buck Rogers and Flash Gordon to return to the big screen over the next few years.