DC's 'Fables' Moving To Big Screen With 'Fantastic Four' Writer And 'A Royal Affair' Director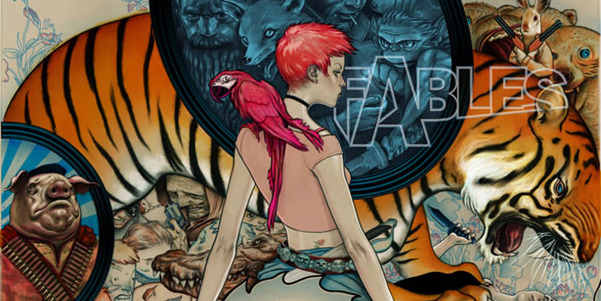 Given the surge of Hollywood interest in fairy tale stories, I'm surprised that it has taken this long for Bill Willingham's award-winning DC/Vertigo series Fables to get a huge movie deal. In fact, however, Fables has been tied up in stalled deals for years; one of them was a TV deal that saw Fables back-burnered when the intended network, ABC, went with another fairy-tale revival instead. (That would be Once Upon a Time.)
But now Fables is back in play from David Heyman and Jeffrey Clifford of Heyday Films, which did a little series called Harry Potter. Jeremy Slater, who wrote the Fantastic Four reboot, is scripting, and Nikolaj Arcel, who directed Mads Mikkelsen in A Royal Affair, will direct.
THR reports the deal. Fables features characters from fairy tales and folklore, who call themselves Fables, and who have set up in a NYC neighborhood after being forced out of their homeland. (There's also an upstate NY location for Fables who don't look human.)
The story works with just about every character you could care to imagine from folklore, but more important is that the story gets very big. Willingham has scripted all of the 100+ issues in the still-ongoing series, and has toyed with various genres throughout the run. Across the span of the story, however, he built up a massive overall conflict between the Fables and their Adversary, who pushed them out of the homeland.
So there are many options for the movie adaptation; this film could create a franchise-ready story, or it could simply distill the essence of Fables into one go-for-broke effort. We'll see which one the producers, Slater, and Arcel choose. Regardless, the various people working together on this one suggest that we should expect something that aims to tackle the full scope of the comic series.