'Coffee Town' Trailer: Now CollegeHumor Is Making Feature Films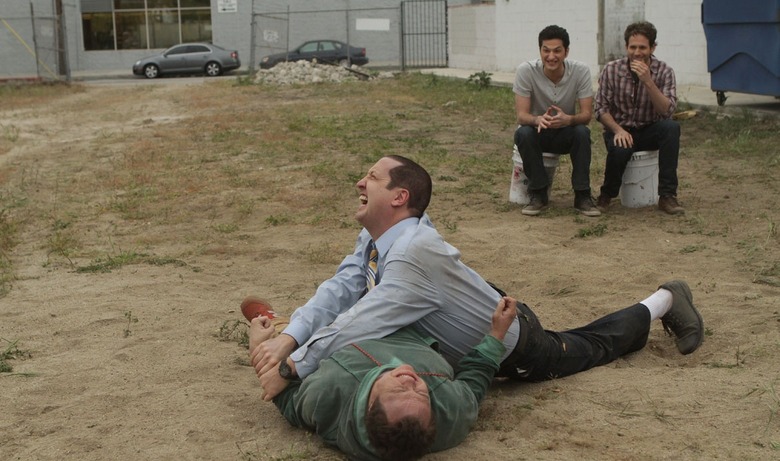 CollegeHumor's silly videos have entertained many a procrastinator for five- or ten-minute chunks, but now the site's looking to command people's attentions for a whole lot longer. The self-proclaimed "comedy leaders" are making their first foray into features this summer with the 87-minute VOD release Coffee Town.
The film features quite an array of TV talents, including director Brad Copeland (Arrested Development) and stars Glenn Howerton (It's Always Sunny), Steve Little (Eastbound & Down), Ben Schwartz (Parks & Recreation), Adrianne Palicki (Friday Night Lights), Jake Johnson (New Girl) and, um, Josh Groban. Watch the first trailer after the jump.
iTunes has the HD version of the trailer.
Coffee Town hits VOD July 9.
The first feature film from comedy leaders CollegeHumor, Coffee Town is an updated workplace comedy for the generation that works out of coffee shops. Will (Glenn Howerton) is a 30-something website manager who uses local café, Coffee Town, as his office. When the owners of the shop discuss plans to convert Coffee Town into a bar, Will enlists the help of his two best friends Chad and Gino (Steve Little and Ben Schwartz) to save his freeloading existence. In order to thwart the plans of Coffee Town's owners, the trio stages a robbery to create the illusion of an unsafe neighborhood not suitable for the proposed venue. Also standing in their way is Sam (Josh Groban), a disgruntled barista with delusions of grandeur—he wants to be a rock star—and Will's heartache over unrequited love for Becca (Adrianne Palicki). Written and directed by Brad Copeland.