Jay Baruchel Is Super-Excited For 'How To Train Your Dragon 2:' "We Smoke The First One"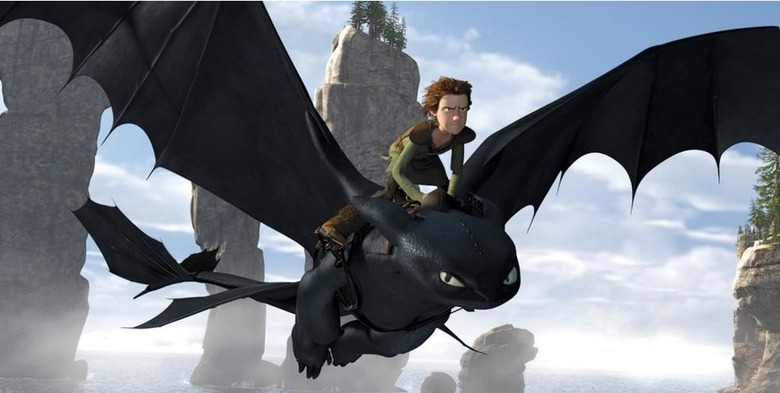 When an actor says they're excited about a movie, it's difficult to trust them completely. Maybe they're being honest. Or, maybe, they're just saying what needs to be said to get asses in the seats. On occasion though, you talk to an actor and they speak with such genine enthusiasm and passion, it's impossible not to believe them. That's what happened when I asked Jay Baruchel about How to Train Your Dragon 2.
Baruchel, who stars in the hilarious June 12 comedy This Is The End, lit up and gushed when asked for an update on the animated sequel, which is scheduled for release just over a year from now. He said while he thinks the first one is "one of the greatest flicks ever" he believes "we smoke the first one with number two." Read his full quote below.
Check back later this week for the rest of my interview with Baruchel, where we talk about playing himself in This Is The End, some of the film's more complicated themes, his burgeoning writing career, RoboCop, and much more. But here's his response when I asked about the latest on How To Train Your Dragon 2:
It took us three bloody years to do the first one so it's a piecemeal process. I've been working on Dragon 2, on and off, for the past year and a half now. And boy is it ever something special. I truly adore the first one. I think it's one of the greatest flicks ever. Period. And one of my proudest moments. So it's no hyperbole when I say we smoke the first one with number two.
It's going to be pretty incredible in every way. The emotional content, the action sequences, it's everything it's supposed to be and then some. It's really going to be a pretty incredible, beautiful flick. People will go buy tickets, see this movie, and be taken on a journey like they've never been on.
If you weren't sold already, start to get excited. Maybe we'll see some early glimpses at Comic-Con this year, or surely later this Fall.
How To Train Your Dragon 2, directed by Dean DeBlois, opens June 20, 2014. This is the End, featuring a much more coarse Baruchel, opens June 12. We'll have more on both flicks soon.