Sam Mendes Likely To Direct Next Two Bond Films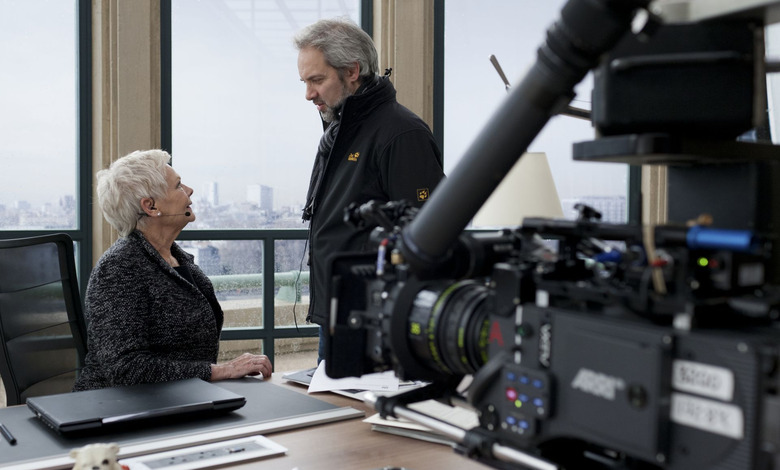 After all that chatter about Sam Mendes' hesitation to return for the next James Bond pic, and all that fanfare about which other filmmakers might land the job, the latest word is that Mendes is looking likely to helm the next installment after all. And possibly even the one after that. Hit the jump to get the details.
Showbiz 411's Roger Friedman reports that he has it "as confirmed as it can be" that Mendes has committed to Bond 24 and "most likely" Bond 25 after extensive negotiations. (Meaning, too, that he could end up directing the rest of Daniel Craig's run as Bond.) Sony has yet to make a formal announcement, but as Badass Digest points out, Friedman seems to know what he's talking about when it comes to this franchise. He not only broke the news that Adele would sing the Skyfall theme song but posted lyrics to the tune before her involvement was officially revealed.
Bond producers Barbara Broccoli and Michael G. Wilson have long hoped to get Mendes locked in for Bond 24. The director, however, has been more ambivalent. Earlier this spring, he explained to press that he'd turned down their offer due to his hectic schedule. Previous reports also indicated that Mendes was against the original plan to shoot Bond 24 and Bond 25 back-to-back, as it would have tied him to the franchise for another four years.
In the months since, Christopher Nolan, Ang Lee, Tom Hooper, David Yates, Nicolas Winding Refn, and Shane Black have been among the names rumored to be in the mix for the job. However, Friedman says that Mendes remained the producers' top pick throughout. It's anyone's guess what changed Mendes' mind, but presumably a crap ton of money is involved.
Skyfall was the single highest-grossing Bond film to date, and among one of the best reviewed as well. The challenge for Bond 24 will be to clear the high bar set by its predecessor. It's too soon to guess whether it'll succeed, but getting Skyfall's director, star, and writer back on board seems like as good a place as any to start.