'This Is The End' International Trailer And Red-Band Spot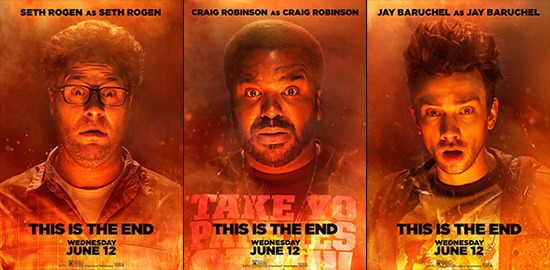 The early word on Seth Rogen and Evan Goldberg's apocalyptic comedy This Is the End has been great. The film that began as an expansion of the short Jay and Seth Versus the Apocalypse has really grown up. It reportedly achieves more than a few laughs based on the joke premise of a comedy who's who (Rogen, Jay Baruchel, James Franco, Craig Robinson, Danny McBride, Jonah Hill) playing thinly fictionalized versions of themselves as the world goes to hell.
Here's a new international spot, complemented by a long red-band TV spot, that shows some of the disaster that the actors/characters must face. And speaking of faces, there are character posters for six of the actors. (Why doesn't Emma Watson get one? At least she gets a lot of play in the red-band spot.) You can see three of them above, and bigger versions of all six are collected in a gallery below.
I'll provide no commentary here as I'm trying to skip all trailers and spots for this one in the hopes of having the chance to go in mostly unspoiled. But for those who want instant gratification, here's the international trailer:
Here's the red-band TV spot:
This Is The End is out June 12.
When Jay Baruchel and Seth Rogen head to James Franco's house for a party, they're not surprised to see the likes of Jonah Hill, Danny McBride, Craig Robinson, Michael Cera, Aziz Ansari, Kevin Hart, Jason Segel, Paul Rudd, Rihanna and Emma Watson.What they are surprised about is when the apocalypse starts right outside their door and many of those friends meet their untimely deaths. That leaves six of the friends (Franco, Rogen, Hill, McBride, Robinson, Baruchel) in survival mode.