Cool Stuff: Laurent Durieux's 'The Phantom Of The Opera' Poster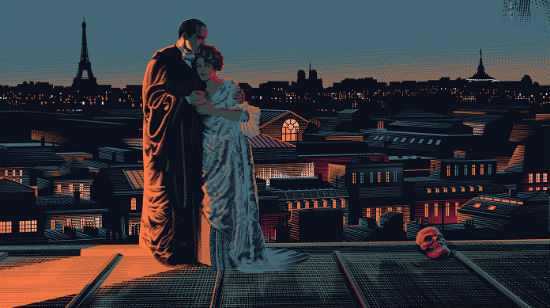 Ask most people what they know about The Phantom of the Opera and they're likely to reference the Broadway musical. Andrew Lloyd Webber's adaptation of the novel by Gaston Leroux is far and away the best known version of the 1909 story about mysterious man in an Opera House who falls in love with a new actress.
Long before that version of the story hit the stage, Phantom was adapted into a well-received 1925 silent film starring Lon Chaney. That version has recently seen a resurgence because of its connection to the Universal Monsters series, and also a timeless aesthetic which lends itself to gorgeous posters.
Of course that's where I was going with that, right? Dark Hall Mansion has revealed a brand new poster in their ongoing Seminal Film Series: The Phantom of the Opera by Laurent Durieux. It's a beautiful and evocative representation of the film and goes on sale next week.
Here's both the 24 x 36 inch regular and variant editions of the poster which go on sale Thursday, June 6th at 10:30 AM PST here: http://www.darkhallmansionstore.com.
The regular edition is out of 200 and costs $65. The variant edition is out of 100 and costs $100. There are also wood editions in both colors, each a limit of 10.
Here's how Dark Hall Mansion describes both the poster and some of the history behind it. Interesting stuff.
While some of our upcoming releases for the DHM-Seminal Film Series might surprise, indeed seem outright obscure, particularly as we're passionate silent film fanatics at DHM, there is no way we could present a unique and artistic take on cinematic history without properly, and we hope, beautifully, addressing some of the very cornerstones that shaped the course of film history to this very day.
We've always found Lon Chaney Sr's work arresting, to say the least. Deliberately protective of his privacy while fostering an air of mystery about himself and his characters, Chaney had already established a body of work by the time he came to portray the Phantom, but it is this role, perhaps more than any other, that he is most remembered for. As film aficionados know, Chaney was permitted to create his own makeup for 'Phantom' after his earlier success rendering his own unique take on Quasimodo in "The Hunchback of Notre Dame,"but it's Phantom's startling realization that would influence and shape filmmakers, as well as filmgoer's expectations, for generations to come.
As unusual as Chaney's makeup and self-developed techniques with same often were, he still considered himself a character actor, and be it his talent with makeup or his equally supreme skills at body contortion, they were simply tools for realizing-in his own words- "extraordinary characterization." Chaney's true goal: to have audiences empathize, or at the very least, understand his characters, however unusual, however extreme. There is no doubt his Phantom is, and shall remain, among the very pinnacle of cinema's legendary characters.
The aim of Dark Hall Mansion's DHM-Seminal Film Series is the very bridging of cinema as art and art as cinema. To create beautiful prints for some of the most resonant American and international films, distilling film and imagery while beholden to no specific screening or advertising obligations. Our aim right from the onset was to honor the tradition of vintage film posters while simultaneously releasing our artists from its commercial constraints. The single goal then: to create stunning pieces that are intended, right from their inception, to be true stand alone works of art. The very essence of each film to be distilled and rendered in such a fashion that anyone, even via the most cursory of viewings, will appreciate the prints for their visual beauty or in the historical context of what made these films so relevant and so special in the first place.
Key to our approach with DHM's Seminal Film Series is matching artist to film, and nowhere was this more clearly manifest than in our first pairing of "Metropolis" and Laurent Durieux. DHM has had the distinct pleasure of working with Laurent several times now since first introducing him to US audiences and print collectors worldwide, and there was no way we were going to miss the opportunity to invite him in to showcase his considerable skills on a project that required a simultaneously shocking as well as subtle touch. In keeping with the aesthetic behind our Seminal Film Series print releases, we wanted 'Phantom' to be both powerful yet restrained, a piece that immediately takes you into the film yet refashions it in an elegant manner for contemporary display. Once again, Laurent has excelled on all counts.
The print, like the film itself, is at once rich, moody and highly atmospheric, appropriately shocking in its tribute to one of the foundation's of horror cinema while still romantic and sweeping in scope. A print designed to capture more than the elements of horror, much like Chaney's hopes for his characterizations, we trust the print resonates with collectors as something unique, nuanced, and evocative of the classic stone litho posters and artists of the silent period.
Laurent's two highly distinct and striking takes for "Phantom of the Opera" have the expected levels of fine detailing our collectors have come to cherish with each releases, yet the Standard and Variant editions, while at once complimentary, yield very different moods, provoking distinct emotional responses. And frankly, we love that! It's unusual renderings such as these that we trust will continue to register with collectors and help establish the DHM-Seminal Film Series' overall tone.