'Machete Kills' Teaser Trailer: President Charlie Sheen Needs Machete's Help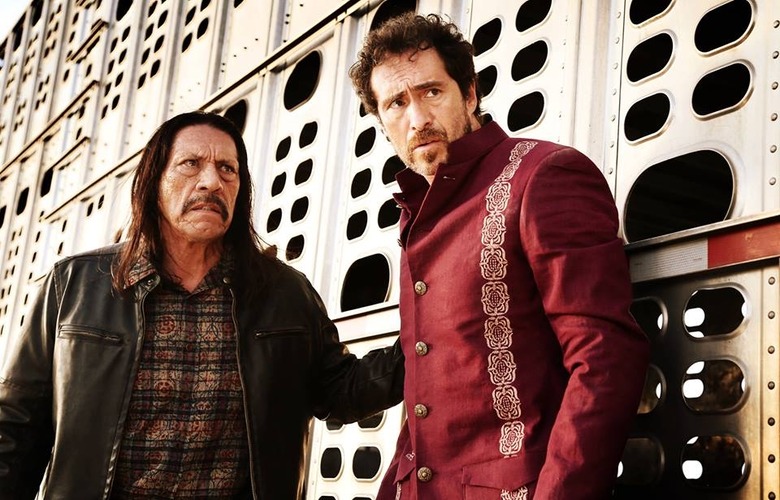 Subtlety and restraint have their place in cinema, but Robert Rodriguez's Machete Kills isn't it. The sequel to Rodriguez's 2010 action thriller features deadly broads, weaponized boobs, a cackling madman, President Charlie Sheen (or President Carlos Estevez, rather), and a Machete (Danny Trejo) who's just been pulled back from the brink of death. Watch the explosive first teaser trailer after the jump.
The trailer doesn't delve too much into plot specifics, probably because the plot is just an excuse to feature all kinds of outsized characters and their over-the-top antics. But if you're curious, the story centers on the ex-Federale Machete, who as we know from the first movie is a tough man to kill even though there are many who'd like to do just that. His skills are put to the test when called upon by the U.S. president to stop a billionaire (Mel Gibson) who wants to wreak havoc on the world by launching a missile into space.
Appropriately for the film's "more is more" sensibility, the cast is both big and flashy. Cuba Gooding Jr., Demián Bichir, Michelle Rodriguez, Lady Gaga, Sofia Vergara, Amber Heard, Jessica Alba, Alexa Vega, Vanessa Hudgens, William Sadler, Marko Zaror, and Antonio Banderas all make appearances. Machete Kills opens September 13.
In MACHETE KILLS, Danny Trejo returns as ex-Federale agent MACHETE, who is recruited by the President of the United States for a mission which would be impossible for any mortal man – he must take down a madman revolutionary and an eccentric billionaire arms dealer who has hatched a plan to spread war and anarchy across the planet.