Star Wars Bits: Damon Lindelof, Storyboards, J.W. Rinzler, Angry Birds, Daniel Radcliffe, John Noble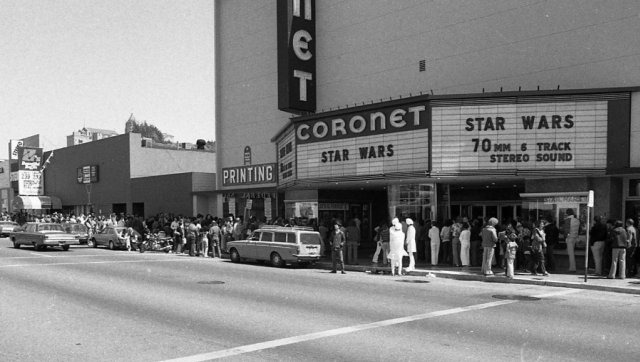 It should come as a surprise to no one that Damon Lindelof adored George Lucas from a young age, but now he also has the photo to prove it. Also after the jump:
Star Wars Episode VII might shoot in Ireland
Daniel Radcliffe and John Noble want to join Star Wars
Watch a book trailer for The Making of The Empire Strikes Back
Star Wars prequel storyboards offer a peek at what could have been
Hasbro announces Angry Birds Star Wars action figures
Read an oral history of Star Wars at the Coronet Theatre
Harry Potter's Daniel Radcliffe and Fringe's John Noble are the latest actors to throw their hats into the ring for the new Star Wars trilogy. Despite having most of his youth tied to one major movie franchise, Radcliffe revealed that he'd love to become part of another.
Franchise mustn't become a dirty word. If directors like JJ Abrams and Joss Whedon keep doing what they're doing, it won't be. I'd love to be part of one again. Maybe not leading it: a nice supporting role. In Star Wars? Yeah, that'd be awesome. That'd be crazy cool.
Rumors that Noble would star in the new film have already been debunked, but the actor affirms that he'd love to board the project if Abrams will have him.
I mean I'd love to do Star Wars. That would just be epic doing something like that. And it's not beyond the realm of possibility. I have a terrific relationship with J.J. Abrams and Bad Robot, I really do. So it's not beyond the realm of possibility. It's awhile away yet. [...]
Well, I mean Star Wars. If you're going to do one [franchise], do Star Wars. I mean seriously, if you're going to pick one to do, do that one. Because that's basically a cultural revolution. It reset pop culture in some ways. So if I had to choose one, it would be that one.
Damon Lindelof isn't attached to write any of the Star Wars films (at least that we know of yet) but his admiration for the franchise goes way, way back. In an interview with THR, Lindelof offers an anecdote from his teen years about spotting George Lucas at Disneyland.
So I leave the line, which I've been waiting on for 40 minutes, and I grab my dad and I say: "Dad, George Lucas is on that ride. I shit you not. I'm going to stand at the elevator, and I want you take a picture of me with George Lucas getting off in the background." Which he did.
Said picture can be seen below.
Here's a 14-year-old Damon Lindelof photobombing George Lucas pic.twitter.com/A5h6kfTPqd

— Erik Davis (@ErikDavis) May 28, 2013
Earlier this month we showed you a few preview pics from J.W. Rinzler's The Making of Return of the Jedi; today we have a "book trailer" showing off even more of the goods within.
The voiceover is terribly cheesy and unconvincing, but the book itself looks like it could be pretty nifty. It hits shelves October 1.
While The Making of Return of the Jedi is still months away, Rinzler's Star Wars Storyboards: The Prequel Trilogy has just landed in stores. I know, I know — you all hate the prequels. But if anything, that makes it even more interesting to pore over these and think about what could have been. Among other things, the pics show a mohawked Qui-Gon Jinn, a blobbier Jar-Jar Binks, a more charismatic Anakin, and a Darth Maul that has the power of astral projection.
See much more at io9.
Angry Birds Star Wars is already a game, and now it's also a line of toys. Hasbro has announced a twelve-piece, SDCC-exclusive collection called the Angry Birds Star Wars Special Edition Set. Check it out below.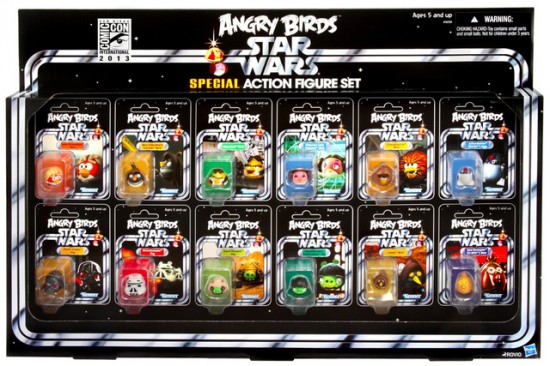 The original 12 STAR WARS action figures are re-imagined for San Diego Comic-Con with a twist based on the mega-hit mobile game ANGRY BIRDS STAR WARS from Rovio Entertainment! LUKE SKYWALKER, PRINCESS LEIA, HAN SOLO, OBI-WAN KENOBI, CHEWBACCA, R2-D2, C-3PO, DARTH VADER, STORMTROOPER, SAND PEOPLE, IMPERIAL NAVY COMMANDER and a JAWA are all re-imagined as heroic birds or evil pigs in this set, with each figure in a unique vintage-style blister card featuring ANGRY BIRDS homage to the classic Kenner artwork! The individual blister cards are all packaged together in a collectible package!
[io9]
In its first weekend, the original Star Wars played at just 37 theaters nationwide. One of those was the Coronet Theatre in San Francisco. Photos from 1977 and later show hints of what a massive pop culture phenomenon this film would turn out to be — check out those crazy lines and thrilled fans.
SF Gate has much more. If you like your Star Wars geekery mixed with a generous dose of nostalgia, you'll also want to read their lovely oral history of the Star Wars experience at the Coronet.