WWE Producing Animated 'Flintstones' Film Featuring A Supporting Cast Of Wrestlers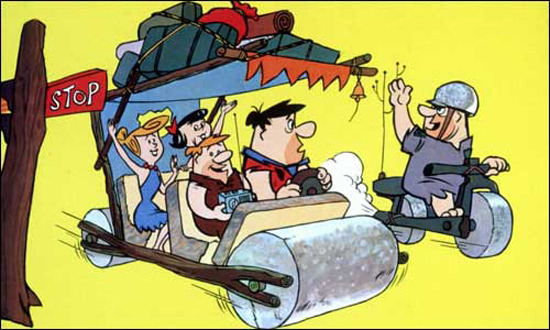 Fans of the classic animated series The Flintstones should always remember this: You'll always have the original. After a set of live-action films in the Nineties, a new animated, direct-to-DVD film is now set to go into production aimed at release in 2015. Here's the kicker, though. It'll be produced by World Wrestling Entertainment and feature the voices of WWE superstars like CM Punk, John Cena and Chairman Vince McMahon. The wrestlers aren't voicing Fred, Wilma, Barney, Betty and the gang, however. Those characters are just going to to attend their first prehistoric wrestling match featuring new characters named Vince McMagma, John Cenastone and CM Punkrock.
This marks the second team up between WWE and Warner Bros., who currently owns the Flintstones rights. The companies co-produced an animated Scooby-Doo film set at Wrestlemania that'll be released on DVD on March.
Variety broke the news of this project, which has some of its origins in a throwaway line The Rock said to John Cena some years back. The Rock called Cena "Fruity Pebbles" and the WWE ran with it and brokered an endorsement deal. That relationship proved the two were a good match.
It also extends the current direction of the WWE as family friendly entertainment. Michael Lusi, president of WWE Studios, said the following:
WWE is family-friendly entertainment, so partnering with Warner Bros. on a Flintstones-WWE project was a natural extension of our 'Scooby-Doo' deal. This new, animated feature allows us to showcase our brand with young fans and loyal Flintstones enthusiasts alike.
If you're a Flintstones fan, does this make you mad? How about WWE fans?