'Planes' Trailer: Disney Has A Need For Speed And A Fear Of Heights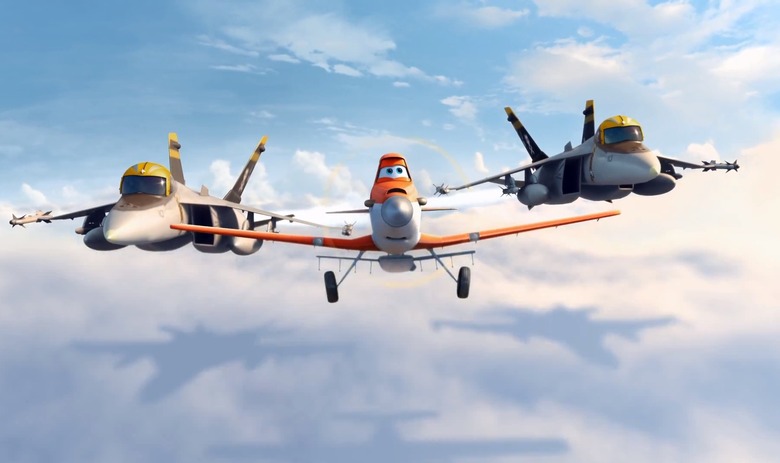 The Formula One rivals of Ron Howard's Rush won't be the only racers speeding toward possible death this year. Disney's Planes features an aerial race contender so inexperienced and unqualified that his very participation prompts one character to shrug, "Well, he's going to die."
In most other respects, though, we can probably expect Planes to be a much different affair from Howard's historical drama. For one thing, the racer in question is an anthropomorphic crop duster named Dusty (voiced by Dane Cook). For another, Planes is set in the same colorful, kid-friendly universe as Pixar's Cars. Don't expect any solemn meditations on mortality and the competitive spirit from this one, in other words. To find out what you can expect, see the new trailer after the jump.
Maybe I've missed something, but it's still unclear to me why, if he's so terrified of heights, Dusty even wants to race to begin with. Underdog sports heroes are a dime a dozen at the movies, but most of them don't start out deathly afraid of their own sport.
That confusion over character motivation aside, Planes looks pretty cute. Despite being based on a Pixar property, Planes isn't itself a Pixar film, and anyone hoping for Pixar-level quality will likely be disappointed. (Though arguably, the same might be said about the Pixar-produced Cars and Cars 2.) But anyone who just wants a sweet bit of entertainment to share with their kids could do way worse than this likable hero and his beautifully animated adventure.
Planes lands in theaters August 9.
From above the world of "Cars" comes "Disney's Planes," an action-packed 3D animated comedy adventure featuring Dusty (voice of Dane Cook), a plane with dreams of competing as a high-flying air racer. But Dusty's not exactly built for racing—and he happens to be afraid of heights. So he turns to a seasoned naval aviator who helps Dusty qualify to take on the defending champ of the race circuit. Dusty's courage is put to the ultimate test as he aims to reach heights he never dreamed possible, giving a spellbound world the inspiration to soar. "Disney's Planes" takes off in theaters on Aug. 9, 2013.