Cool Stuff: Glen Brogan's First Solo Show Features Batman, Indiana Jones, The Simpsons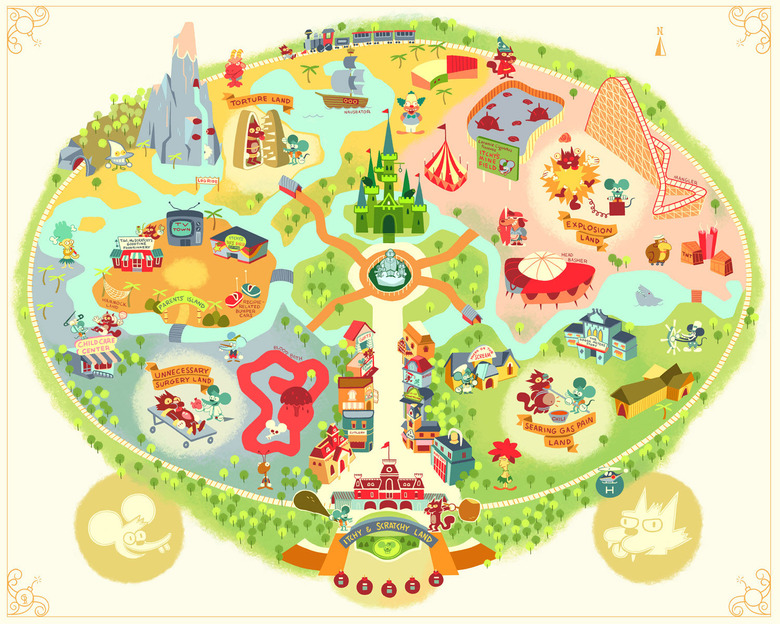 You may not know Glen Brogan by name, but his art has likely caught your eye. The West Virginia-based artist has been working for venues like Gallery 1988 and Mondo for years, creating pop culture art in a style that simultaneously unique and familiar. His visuals looks like something out of an animated film, popping with the same kind of vibrancy and cartoonish realism that makes animation wonderful.
Now the artist is finally having his first solo show and /Film is proud to debut a few of the images. It opens Friday May 31 at Gallery 1988 East in Los Angeles, CA. Brogan has created pieces from all corners of pop culture, television, comic books, movies and more, with topics as varied as Indiana Jones, Batman, The Simpsons, the Domino's Noid and Smokey the Bear. Check out a small sampling below.
New Work by Glen Brogan takes place at Gallery 1988 East, 7021 Melrose Ave., Los Angeles CA. It opens at 7 p.m. May 31 and remains on display through June 22. It'll be followed by an Eric Tan solo show. For more info, visit www.gallery1988.com.
Here's a small sampling of work in the show. After the jump, get the particulars on each piece as well as a few thoughts from Brogan himself.
Gotham City Comic-Con
10 x 20
Edition of 30
Glen says: "I like it when you see our real-world fandom mirrored in fictional comic book universes, because if superheroes really existed I'm sure they'd have a ton of fans who would love to meet them and collect their merchandise. I don't know if Gotham's super villains would be allowed to do meet-and-greets at a Comicon, but maybe they'd dress up and attend anyway."
Henry Jones and the Holy Grail
13 x 19
Edition of 20
Glen says: "The third Indy movie is my favorite and Henry Jones is my favorite character, so I wanted to single him out and pay tribute."
Itchy and Scratchy Land
16 x 20
Edition of 50
Glen says: "This piece is an excuse for me to combine two things I love: the design of old Disney theme park maps and The Simpsons. I went through the Itchy and Scratchy Land episode and took lots of screen captures and notes to get the map as accurate to the show as possible."
Blackjack, Blackjack
12 x 12
Edition of 35
Glen says: "I love ad mascots, and this piece pays tribute to a couple of my favorites. Hopefully everyone remembers those little plastic tables that used to come with delivery pizzas."
Public Service Announcement
14 x 18
Edition of 35
Glen says: "Another piece based on mascots, but this time all the characters are from PSAs. Some of these guys are still around, and some you may recognize if you watched TV a few decades ago. I don't know how many kids actually took their messages to heart, but I liked the idea of seeing them doing exactly what they tell you not to do."
TV Memories
16 x 20
Edition of 50
Glen says: "Some of my favorite characters from some of my favorite TV shows, both old and new."
When asked about the rest of the show, Brogan teased the following:
The show has around 30 pieces, and some of my favorites are the more complicated ones with lots of characters. One of the bigger pieces is hinted at on the promo card, and my dad even helped me out by making a custom frame for it that's very unique.
For more on Brogan, read our previous articles or visit his official site.