Star Wars Bits: John Williams Talks 'Episode VII;' Plus Edgar Wright And Geeky Lawyers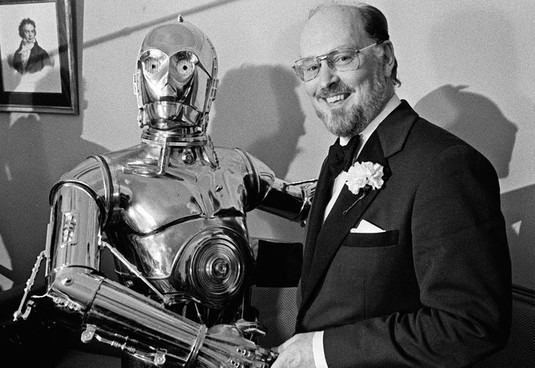 In today's trip to a galaxy far, far away, read about how one law firm sought out Star Wars fans to help solidify the deal between Disney and Lucasfilm, as well as the following:
John Williams confirms he's spoken to J.J. Abrams about scoring Star Wars Episode VII.
Edgar Wright doesn't think he'll ever direct a Star Wars movie.
The most exciting Star Wars bit today is legendary composer John Williams' comment on the upcoming sequel. Director J.J. Abrams recently said he wanted to bring Williams, who has scored all six previous films, back for Episode VII and now Williams has confirmed they've had that conversation. Thanks to Zap2It via Comic Book Movie:
We've certainly talked about that, and I'm happy and willing to do it. J.J. Abrams, who will be the director, seems excited about the idea. I have to say that J.J. is a much younger man than I, but I will try to keep up with him as much as I can.
He also commented on being excited for the whole journey in general:
We now have the benefit of all this computer simulation and technical work that wasn't even possible 20 or 25 years ago. I don't know how hands-on George Lucas will be — I suspect he will be to some degree — but I can only imagine how excited he must be, to have a director like J.J. have all these tools at his fingertips to produce something even more adventurous technologically. I can't wait to see what he will do with it.
One director who doesn't think he'll get to play in that universe is The World's End director Edgar Wright. Speaking at London Comic-Con, the director seems to think he burned that bridge by brutalizing Episode I in his TV show, Spaced. Thanks to Bleeding Cool for the report:
Matt from JediNews.co.uk asked if Edgar would direct one of the Star Wars sequels or spin-offs. Edgar suggested that this wouldn't even be an option. He did really drag the prequels through the dirt in Spaced, and it does seem unlikely Lucasfilm would want to associate with that.
Even if Tim Bisley really hated Jar-Jar Binks, I'd like to think, if Ant-Man lives up to expectations and there's a Star Wars job opening in the next five years, Wright would be at the top of the list no matter what he says.
Lastly, the Hollywood Reporter has a fascinating article on attorney Brian McCarthy and the lawfirm Skadden Arps. Who? McCarthy was tasked with making sure George Lucas and Lucasfilm owned all the rights to the Star Wars characters before Disney, whom he represents, spent a few billion to buy them. What's great about this was he had to complete the task quietly and quickly, so he looked for lawyers who were more than simply familiar with Star Wars. Here's an excerpt:
McCarthy, the head of his white-shoe firm's Los Angeles office, narrowed the task [of checking individual character copyrights] down to 290 primary, copyrighted characters. To sort through them all, he assembled a legal team of bona fide Star Wars fans. "I tried to find people in the office who ... didn't have to spend time figuring out who Princess Leia was," recalls McCarthy. "I was shocked by how many people knew the intricacies of whose father-in-law was married to whose sister." The top-secret process — code names were employed to keep office chatter to a minimum — started in June 2012, and crunch time came during a six-week period beginning in August, when as many as 20 Skadden employees (from $500-an-hour partners to less expensive paralegals) pored over complex chain-of-title documents related to Star Wars and Lucasfilm.
Read the rest at The Hollywood Reporter.
Is John Williams the right man to score Episode VII? Will Edgar Wright ever direct a Star Wars movie? Do you know any geeky lawyers?