Sequel Bits: 'MacGruber 2', 'Machete Kills', 'Transformers 4', 'Basic Instinct 3', 'Star Trek 3', 'Smurfs 2', 'Human Centipede 3'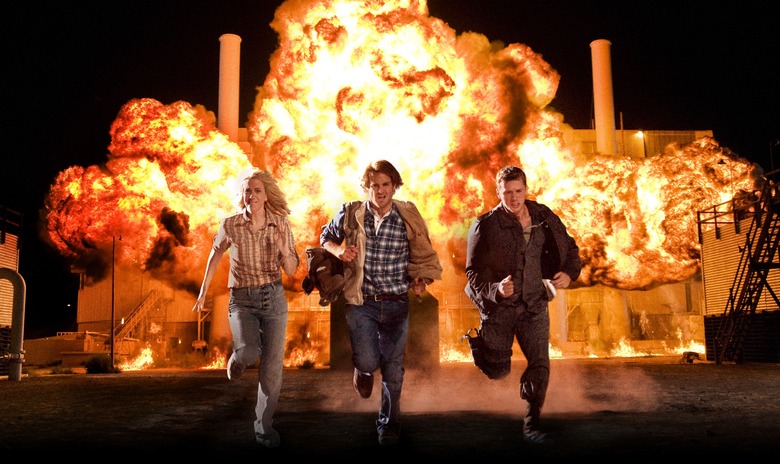 I hope you're excited for Human Centipede III, because shooting in LA has already begun. Also after the jump:
Will Forte is working on MacGruber 2 this summer
Could the Fast Five vault heist happen in real life? (No.)
Charlie Sheen returns to his Latino roots for Machete Kills
Glenn Morshower won't be in Transformers 4, but you could be
Rumor has it Sharon Stone wants a Basic Instinct 3
J.J. Abrams hasn't ruled out a third Star Trek
Hatchet III and The Smurfs 2 get new posters
After assuring fans last summer that a script for MacGruber 2 was on the way, Will Forte is finally getting ready to make good on that promise this summer.
"June 10th my writing partners John Solomon, Jorma Taccone and I are locking ourselves in a room and writing it," Forte said. "We were happy with how the original came out. I guess you wouldn't call it a [box office] success but people got to see it, sometimes you just have to be happy with that."
Forte said last month that "there will be some form of MacGruber 2," so it's nice to hear the project is actually starting to take shape. According to him, original stars Kristen Wiig and Ryan Philippe have already been in discussions to return. [Rolling Stone]
I suspect no one with even an ounce of common sense needs to be told that the vault heist in Fast Five could never happen in real life. But in case you want to know exactly how unrealistic it really is, Harvard physicist Randall Kelley has a detailed explanation, with numbers and equations and everything. Get your math geek on over at Vulture.
Charlie Sheen is embracing his Latino heritage for the Latin-flavored Machete Kills. As seen in the screenshot below, Sheen will be credited — for the first time ever in his career — by his birth name, Carlos Estevez.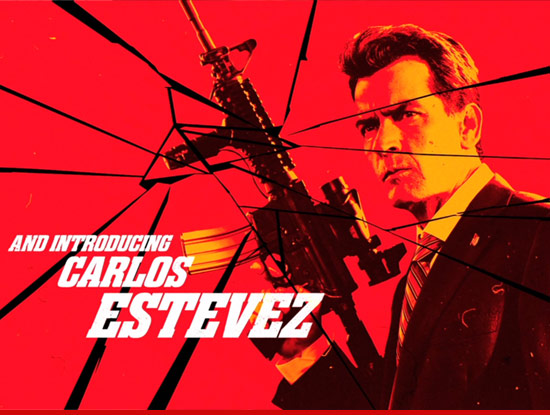 Sheen plays the U.S. president in the Robert Rodriguez-directed sequel. Machete Kills opens September 13. [TMZ]
Glenn Morshower looked like he'd be one of the few actors to transition with Michael Bay into the new Transformers trilogy. But it seems he won't be the one to carry that torch after all. At a recent event, he revealed that he'd been forced to drop out of Transformers 4 due to scheduling conflicts. Morshower played General Morshower in the first three installments of the series. [TLAMB]
If you'd like to appear in Transformers 4, Beth Sepko Casting and Third Coast Extras are currently mom and dad types with "expressive comedic faces," "unique" characters with "Texas type personality," hot Caucasian gals, and more. Check their Facebook page for more info. [via TLAMB]
This should probably be filed under "wild rumor," but what the hell. Sharon Stone is allegedly "eager" to reprise the most recognized role of her career — Basic Instinct's Catherine Tramell.
The source claims that the idea is for Tramell to get involved with porn sites in some capacity, and that Stone hopes Michael Douglas will also return to give their characters some "closure." We've heard nothing about this potential project so we'll caution you to take it with a big fat grain of salt. On the other hand, doesn't reviving Basic Instinct sound like exactly the kind of thing Hollywood would do right now? [HuffPo]
Just because J.J. Abrams is directing Star Wars Episode VII doesn't mean you should totally count him out for the next Star Trek.
I don't know. The idea of working with these people again would be a thrill and a privilege. One of the reasons I wanted to do the second one was so I had a chance to work with this cast and crew again. [...] It really would depend if there's a third movie that the studio wants to make. It would depend what the schedule was. Would I be open to it? Of course I would.
Granted, "open to it" is a far cry from "committed to it." Abrams will be tied up with Star Wars through 2015, so if Paramount wants another Trek before 2017 or so they'll probably have to look elsewhere. But if you're an Abrams' Trek fan looking for a scrap of hope to cling to, well, there you have it. [CBM]
Because I know how much you're all dying to see The Smurfs 2, we have not one, not two, but four new posters from the animated sequel.
The Smurfs 2 opens July 31. There's also a Smurfs 3 in the works, for July 24, 2015. [Coming Soon, IMP Awards]
Why wait til Halloween to get scared? The team behind Hatchet III are happy to give you goosebumps in the middle of summer. Check out the new poster below.