TV Bits: 'Arrested Development', '24', 'Sons Of Anarchy', 'Bad Teacher', 'The Killing', 'The Bridge'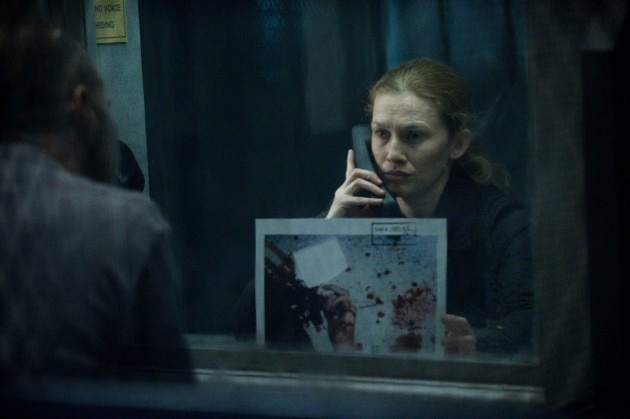 Get ready for Arrested Development's triumphant return this weekend with these four more clips from the new season. Also after the jump:
David Fury will return for 24: Live Another Day
David Slade will direct Ronald Moore's Helix
DirecTV's Full Circle adds Buffy and FNL alums
CCH Pounder joins Sons of Anarchy
FX's The Bridge sets a premiere date
See new pics from The Killing Season 3
CBS picks up Bad Teacher for midseason
Check out trailers for their other new shows
Netflix "would love" more Arrested Development
See four more clips from Season 4
24: Live Another Day has hired its first writer. David Fury, who has been with 24 since Season 5, has signed for the Fox limited series, which already has former showrunner Howard Gordon attached.
"Howard Gordon has a shortlist of writers whom he relies on enormously, and David is one of them," said Fox chairman Dana Walden. "He was hugely important to 24 over the course of its run, and bringing him back for Live Another Day was quite frankly a no-brainer." The limited event will air in 2014. [Deadline]
Fresh off of three episodes (including the pilot) of NBC's Hannibal, David Slade is venturing once more into dark genre territory with Helix. The Syfy series, from Battlestar Galactica's Ronald D. Moore, has just set Slade to direct the first episode. The show follows a team of scientists investigating an alarming disease outbreak. Production will begin this summer in Montreal. [Deadline]
Neil LaBute is bringing on some notable talent for his first TV effort. Full Circle, his 10-episode DirecTV series, has added a slew of familiar faces including Tom Felton, Minka Kelly, Julian McMahon, David Boreanaz, Keke Palmer, Devon Gearhart, Billy Campbell, Kate Walsh, Noah Silver, Ally Sheedy, Cheyenne Jackson, and Robin Weigtert.
The show "examines the human condition and relationships through a series of conversations between 11 people whose lives, unbeknownst to them, are intertwined," which kinda sounds to me like that failed ABC drama Six Degrees. Hopefully LaBute will have better luck with that concept. [Deadline]
Kurt Sutter is bringing yet another star from his The Shield days to FX's Sons of Anarchy. CCH Pounder has signed on for a multi-episode arc on the upcoming season of the biker drama, as San Joaquin County DA Tyne Patterson. Her first appearance will be in the second episode. [EW]
In other FX news, buzzy freshman drama The Bridge has finally set a premiere date and time: Wednesday, July 10 at 10 PM. Diane Kruger and Demián Bichir play cops from opposite sides of the U.S.-Mexico border who join forces to catch a serial killer. [Deadline]
That seems as good a segue as any into this next item, which also concerns a serial killer murder mystery. AMC has revealed a ton of pics from the Season 3 premiere of The Killing, featuring returning leads Mireille Enos and Joel Kinnaman, newcomers Aaron Douglas and Peter Sarsgaard, and more.
The Killing comes back June 2. [via Screen Crush]
CBS announced most of its new series earlier this month, but at the last minute it's decided to add one more. The network has picked up the single-camera comedy Bad Teacher for a midseason premiere. As you might've guessed from the title, it's based on the 2011 movie of the same title, with Ari Graynor in the Cameron Diaz role.
Meanwhile, CBS' other high-profile adaptation, Beverly Hills Cop, will not be moving forward at the network. There's still a chance it could find a home elsewhere, however. [Deadline]
We've already taken a peek behind the scenes, but now CBS is ready to show you proper promos for its 2013-2014 batch of shows. That includes comedies The Crazy Ones, The Millers, Mom, and We Are Men, plus dramas Hostages and Intelligence. See them all below.
To quote Gob's favorite song, "it's the final countdown." We're just a day and a half away from the long-awaited return of Arrested Development, thanks to Netflix. But if you really can't wait to dive in, here are a few clips to nibble on while we wait.
The fact that the new episodes haven't even hit yet means it's still early to start speculating on the future of Arrested Development beyond Season 4. But that hasn't stopped us or anyone else from wondering about it. In an interview, Netflix chief content officer Ted Sarandos floated the possibility of a Season 5 on the streaming service, though he admits it could be a challenge to pull together.
We would love to do more, and we have a deal in place that says that there could be. The problem is logistics. They were all working full-time and doing this show in between, and they did it for the love of the show and for Mitch Hurwitz. If we can muster up that love again, we'd love to do it again. And we have talked openly about a movie scenario, too.
Fifteen new episodes of Arrested Development hit Netflix this Sunday, May 26, at 12 AM Pacific time (so, basically Saturday night for West Coasters). Assuming they're any good, how would you rather see this saga continue — with another season or a movie?