Cool Stuff: Dave Perillo's 'Return Of The Jedi' Poster From Acme Archives Completes The Trilogy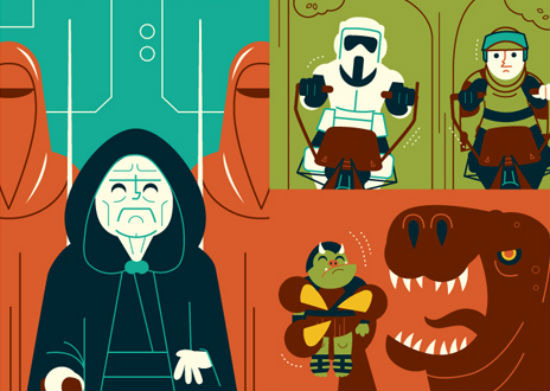 Star Wars, The Empire Strikes Back, and now Return of the Jedi. On the eve of the film's thirtieth anniversary, artist Dave Perillo has finally completed his trilogy of original Star Wars Trilogy posters for Acme Archives. Like the other two, Jedi is a 12 x 36 inch screenprint in an edition of 250 and it goes on sale next Friday, May 31. Below, check out the full image and what it might look like if you have all three of these posters framed side by side.
Here's Dave Perillo's Return of the Jedi:

This poster costs $50 and goes on sale Friday May 31 at a random time. Follow@AcmeArchives for the info.
And here's a quick look at what all three of these posters look like side by side. Click on it for the bigger version. Which is your favorite?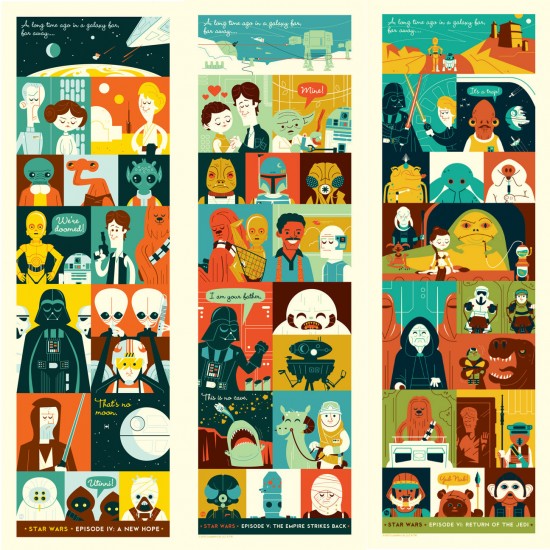 I love the balance here, each poster has almost the exact same composition, except for the Jabba frame in Jedi. That character was probably just too big for one, small frame. It works.