'Monsters University' Trailer And Clip: Ain't No Party Like A Scarer Party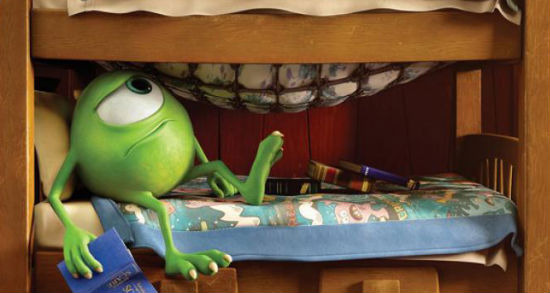 Odds are, your college experience didn't involve two-headed frat boys or courses about scaring. In most other respects, though, Mike and Sulley's first days on campus should look pretty familiar to anyone who's ever logged time in a dorm room.
In a new clip from Monsters University, the pair have a little roommate spat, because learning to live with other people is never easy. Fortunately, they learn to have good times together as well — the new trailer shows them staying up way too late and partying way too hard to the strains of Swedish House Mafia's "Roar." See both videos after the jump.
The Animal House-style partying doesn't seem like it'd fit into a family film, but Pixar somehow makes it work.
The new clip, which comes from Yahoo, is a much less rowdy. Be sure to keep an ear out for the Princess Bride reference.
The colorful characters are voiced by an equally colorful cast. In addition to Billy Crystal, John Goodman, Steve Buscemi, Frank Oz, and other returning voices from Monsters, Inc., the lineup includes Monstropolis newcomers John Krasinski, Nathan Fillion, Aubrey Plaza, Helen Mirren, and Charlie Day. Monsters University opens June 21.
Ever since college-bound Mike Wazowski (voice of Billy Crystal) was a little monster, he has dreamed of becoming a Scarer—and he knows better than anyone that the best Scarers come from Monsters University (MU). But during his first semester at MU, Mike's plans are derailed when he crosses paths with hotshot James P. Sullivan, "Sulley" (voice of John Goodman), a natural-born Scarer. The pair's out-of-control competitive spirit gets them both kicked out of the University's elite Scare Program. To make matters worse, they realize they will have to work together, along with an odd bunch of misfit monsters, if they ever hope to make things right.