Early Buzz: 'This Is The End' Delivers Apocalypse-Sized Laughs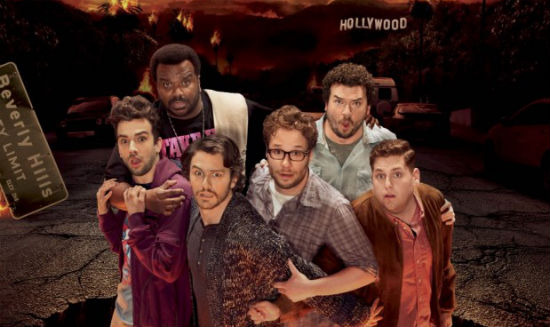 Tuesday night in Los Angeles, Sony held an early screening of Seth Rogen and Evan Goldberg's comedy, This Is The End, which opens June 12. In the film Rogen, James Franco, Danny McBride, Jonah Hill, Craig Robinson and Jay Baruchel all star as themselves. They, along with half of Hollywood, are at Franco's house for a party when the world literally starts to end.
Watching the trailers, we could see a lot of promise in the film. However, mixing Hollywood gossip with gross-out humor and Biblical stakes is a weird premise with plenty of risk. Could the laughs, cameos and other surprises balance out to make an actual funny, entertaining movie? According to the tweets coming out of the screening, the answer is a resounding "Yes." Here's just one, from a name you may recognize, then read more below.
Guys, @Sethrogen's This is the End is the funniest movie of the year (so far). Also: Maybe the most insane third act in movie history

— /Film (@slashfilm) May 22, 2013
Here are some other tweets from fellow movie journalists, bolstering Peter's take on the film.
Forget Jay Gatsby. Danny McBride makes the entrance of the summer in "This Is The End."

— DrewMcWeeny (@DrewMcWeeny) May 22, 2013
THIS IS THE END was extremely funny and absolutely worth seeing. Has one of the funniest scenes I've seen in a long time.

— Steven Weintraub (@colliderfrosty) May 22, 2013
will need to see THIS IS THE END at least one more time. Audience tonight was laughing so loud I couldn't hear some of the dialogue

— Steven Weintraub (@colliderfrosty) May 22, 2013
Just got to see Seth Rogen and Even Goldberg's This is the End. Absolutely hilarious and a great ensemble.

— Eric Eisenberg (@eeisenberg) May 22, 2013
There's so much insanity and laughter in This is the End that I'm having trouble remembering it all. Hilarious, relentless & oddly sweet.

— Germain Lussier (@GermainLussier) May 22, 2013
And here are some tweets from other folk:
THIS IS THE END is hilariously fucking awesome. Good job, @Sethrogen

— Alyssa M. Saucedo (@AlyssaMS) May 22, 2013
This Is The End is the most batshit crazy and hilarious movie I've seen since Cabin In The Woods. Highly recommended.

— Ben Samuels (@bensamuels) May 22, 2013
This is the end is hilarious #fuckyourhousefranco

— Mike C.S. Mullane (@mmully52) May 22, 2013
@sethrogan This is the End was the funniest movie I've seen in a long time. Great work.

— Jon Sohinki (@CapsFanJon) May 22, 2013
Just watched This is the end at this screening. Couldn't stop laughing, my jaw hurts.

— schoolboy (@schoolboy) May 22, 2013
Seen This Is The End today and it was extremely funny!

— Co-D Carter (@LowkeyImBatman) May 22, 2013
I went all the way back through Twitter and could not find one negative tweet about the film. That's very good news. Being one of the lucky few who saw it, I will say the film is most certainly hilarious, but is going to be slightly polarizing. We'll talk more about that in a few weeks though. For now, just know there is an incredibly funny movie coming your way.