Star Wars Bits: Damon Lindelof Could Eventually Work On 'Star Wars;' Plus J.J. Abrams And Episode VII's Costume Designer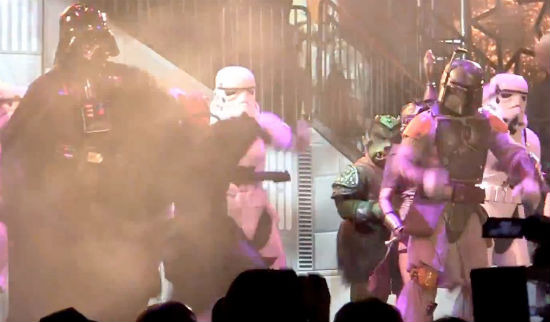 Two Star Trek writers don't think they'll work on Star Wars, while another one does. Plus the director himself talks all about his fandom. Read about the following in this edition of Star Wars Bits:
Who does J.J. Abrams think shot first, Han Solo or Greedo?
Alex Kurtzman and Roberto Orci don't think they'll be working on a Star Wars movie...
...but Damon Lindelof believes he might by the end of the decade.
Abrams talks about lessons he learned from Star Trek that he'll use on Star Wars and how he plans to work on both Star Trek 3 and Episode VII.
Costume Designer Michael Kaplan (Blade Runner, Fight Club, Star Trek) joins Star Wars Episode VII.
EA Games teases a brand new Star Wars Battlefront game.
Famous Star Wars characters danced up a storm at Star Wars Weekends at Disney Hollywood Studios.
Collider spoke to J.J. Abrams about Star Trek Into Darkness and, of course, Star Wars Episode VII. Skip to 4:20 for the Star Wars bit, where he talks about who shot first, Han or Greedo, his thoughts on the prequels and more.
In an interview with the Wall Street Journal, Star Trek Into Darkness co-writers Alex Kurtzman and Roberto Orci said they don't think they'll work with Abrams on the Star Wars films.
I don't think so... I think all of our slates are pretty full right now. I think we're very happy with what we've done on "Star Trek" and our heads have been there, you know? They haven't really gone past that point. I think right now we're mostly excited to sit there in the theater and be fans of the next "Star Wars" movie. You don't get that opportunity very often so I'm not sure we want to dilute it.
Their Trek writing partner, Damon Lindelof, did a fascinating in depth interview with Grantland where the self-professed Star Wars nut discussed the immense pressure Michael Arndt must currently be under, how much he respects him and, ultimately, admitted he'll likely be working on the franchise by the end of the decade:
I'd say over the next decade, you and I are going to get five Star Wars films, and it won't be Episode VII, but I may be involved in one of them when the pressure isn't as intense.
Before beginning the crucifixion, I urge you to head over to Grantland and read the full context of that quote. Lindelof is 100% aware of people's perceptions of this news.
TrekMovie also talked to J.J. Abrams about his latest film and really grilled him on not only what he learned in Star Trek that he can use in Star Wars, but also the logistics of Star Wars Episode VII and Star Trek 3 scheduling. Head there for the transcript or just watch below.
Costume designer Michael Kaplan, who worked with J.J. Abrams on the last two Star Trek films as well as films like Blade Runner, Fight Club, Armageddon and many others, revealed to Buzzfeed (via CBM) that he'll be working on Star Wars Episode VII:
I've just learned I'll be working on the new Star Wars movie, again with J.J. Everything just got formalized [last week], I haven't even had the chance to talk to anyone about it all other than to be told 'welcome aboard.' It's a little too soon to know exactly what's in store but I'm excited, absolutely, to get to work on another prestigious sci-fi series.
Speaking at the Stifel 2013 Technology Conference, Electronic Arts CFO Blake Jorgensen hinted his company might be working on a new Battlefront game in the Star Wars universe. Read more at Gamespot.
Finally, this past weekend marked the first Star Wars Weekend of the Summer at Disney Hollywood Studios in Orlando, FL and Inside the Magic was there. They captured some truly horrifying video of Star Wars characters dancing to popular tunes. I'm just embedding one clip, head to Inside the Magic for more misery.