'Byzantium' Trailer: What Horror, To Be Sixteen Forever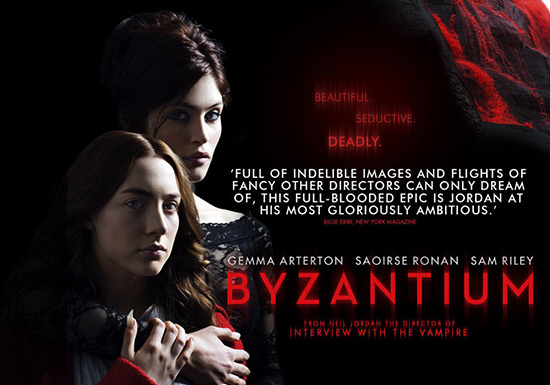 Byzantium may be the year's ultimate horror movie, because it is about a girl who is sixteen years old forever, and I can't think of many things more horrible than spending eternity in that transitional phase.Saoirse Ronan plays a woman who appears to be young, but in fact is a vampire, and has been since she was sixteen... which was a couple hundred years ago. Her mother, played by Gemma Arterton, is also a vampire, and they must periodically flee to a new safe haven. The film finds them settling into a dilapidated coastal town, but secrets are revealed, and trouble brews.Neil Jordan directs from a script by Moira Buffini, and Byzantium looks like it is cut straight from the cloth Jordan used for films such as Interview With the Vampire and The Company of Wolves. Jordan's visuals, captured by Hunger and Shame cinematographer Sean Bobbitt, are lovely, and this first US trailer presents them well.Apple has the trailer. Byzantium opens on June 28.
Two mysterious women seek refuge in a run-down coastal resort. Clara meets lonely Noel, who provides shelter in his deserted guesthouse, Byzantium. Schoolgirl Eleanor befriends Frank and tells him their lethal secret. They were born 200 years ago and survive on human blood. As knowledge of their secret spreads, their past catches up on them with deathly consequence.