'The Wolverine' Trailer #2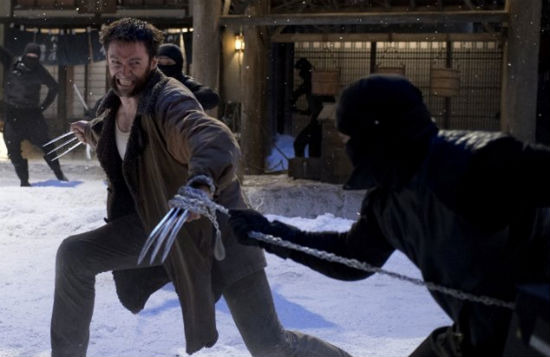 James Mangold took his sweet time releasing the first trailer for The Wolverine, but since then he (and Fox) haven't been shy about showing off. The second domestic trailer for the comic book sequel, revealed today, has some more new footage still.
As if that weren't enough to tempt you to keep reading, we also have two artsy new character posters for Yukio (Rila Fukushima) and Viper (Svetlana Khodchenkova). Check it all out after the jump.
That's a hell of an opening, if you have any residual affection for the original X-Men trilogy. Most of the rest of the footage should be familiar if you've already seen the earlier trailers and the Cinema Con reel, though I think there are some new bits sprinkled in here and there.
Lord knows Wolverine has plenty of reason to be angsty right now, and Hugh Jackman's good at expressing that pain. But I'm really starting to miss the lighter side of the character. As we've seen in the comics and the other films, he's got a sly sense of humor lurking underneath that hairy scowl. Here, he seems to be trying his very best to outdo Christopher Nolan's Batman in the Gloom and Doom Olympics.
Oh well. At least the new poster are pretty. They feature the same elegant calligraphy-inspired design as earlier sheets for Wolverine and the Silver Samurai.
So much better than those cheesy action movie poses, don't you think?
The Wolverine hits theaters July 26.
Based on the celebrated comic book arc, this epic action-adventure takes Wolverine (Hugh Jackman), the most iconic character of the X-Men universe, to modern-day Japan. Out of his depth in an unknown world, he will face a host of unexpected and deadly opponents in a life-or-death battle that will leave him forever changed. Vulnerable for the first time and pushed to his physical and emotional limits, he confronts not only lethal samurai steel but also his inner struggle against his own immortality.