'Anchorman: The Legend Continues' Teaser: Just Saying Hello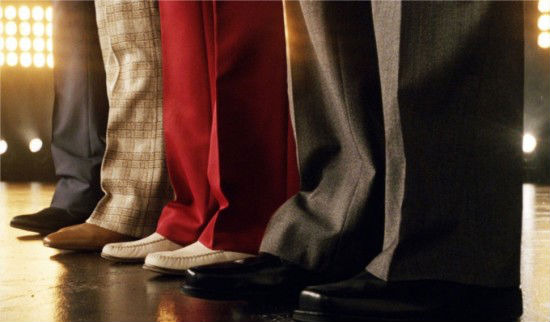 Director Adam McKay promised "a murderers' row of day players" for Anchorman: The Legend Continues, and based on the casting so far it definitely looks like he's gonna deliver. But the faces we're really excited to see are those of the core Channel 4 news team, and the new trailer offers a peek at just that.
There's no new footage to be found here, but there are enough laughs to whet your appetite for comedy. Against a flashy backdrop just like the one from the last trailer, Ron Burgundy (Will Ferrell), Brian Fantana (Paul Rudd), Champ Kind (David Koechner), and Brick Tamland (Steve Carell) step up to say hello. And stay classy. And, uh, happy Easter. Check it out after the jump.
Oddly, these guys still seem to have only six feet between the four of them. Perhaps they've been tangling with the other news networks again.
It's been almost a decade since the last film, but you wouldn't know it from this trailer. Partly because Rudd somehow never, ever ages, but also because these manly men don't seem to have changed one bit. Which isn't a complaint, mind you. Comedy sequels tend to be pretty hit or miss, but these four look as hilarious as ever. Fingers crossed that impression will bear out when a full-length trailer finally hits.
Previous quotes from the cast and crew have indicated that the sequel will follow Ron and his team, including the incomparable Miss Corningstone (Christina Applegate), to New York City, where they'll deal with diversity and the 24-hour news cycle in their typically oblivious way. Their adventure will involve new characters played by Harrison Ford, James Marsden, Dylan Good, and Meagan Baker, plus more cameos than you can shake a stick at.
Anchorman: The Legend Continues is shooting now in Atlanta for a December 20 release.