Michael B. Jordan On The Possibility Of A Black Human Torch: "It's 2013"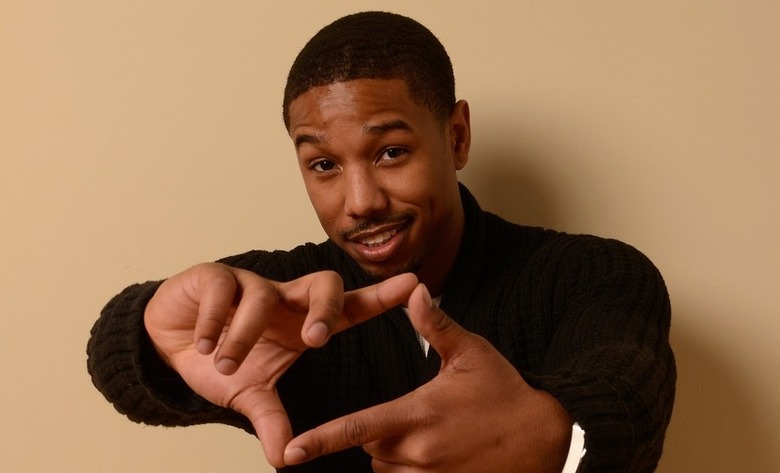 Josh Trank's Fantastic Four hasn't announced any stars just yet, but we got some tantalizing hints a couple weeks back when Michael B. Jordan and Allison Williams were rumored for major roles. The reports got a lot of buzz, most of it good — but predictably, there were a few folks unhappy with the fact that Jordan is black, whereas Johnny Storm has traditionally been portrayed as white.
While Jordan won't confirm his casting right now, he was happy to address some of the negative feedback he's gotten. Put simply, he doesn't see why his race should be a problem: "It's 2013." Hit the jump to read the rest of his comments.
The actor enthused about the warm reaction he'd received from fans so far. "I get a lot of support and a lot of love from comic-book geeks. I love it," he said. And although he acknowledged that he'd heard some criticism about the possible casting, he shrugged off any suggestion that his race could be an issue for the movie.
Things change and time goes on, it's 2013 right now. The characteristics of the Human Torch are his name is Johnny Storm, he's charismatic, and he's a playboy. That's it. You know what I'm saying? That's all there is.
Non-white superheroes have been difficult to find onscreen, even during this current glut of comic book movies. Jordan playing the Human Torch would be an welcome change of pace. Not to mention the fact that Jordan would be a great pick regardless of his or the character's race — he's exactly the kind of handsome, charming, and talented actor who'd be ideal for the part.
Whoever lands the part, we can expect to get some firmer details soon. Fantastic Four is coming together now for a March 6, 2015 release.